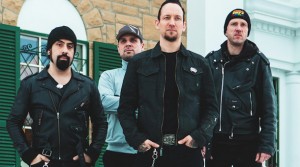 When the Seattle Mariners traded 12-season superstar Ichiro Suzuki to the New York Yankees last year, it happened on the very day the Yankees arrived in Seattle for a three-game series. Suzuki wasted no time settling into a club conceivably destined for the playoffs: He got a hit in his first at-bat against yesterday's teammates, and he promptly stole second base. When the 10-time MLB All-Star bid adieu to Seattle in a press conference announcing the trade that day, he did so in Japanese.
Suzuki, of course, didn't immediately come to mind after Rob Caggiano quit "Big 4" thrash-metal staples Anthrax in January reportedly to focus on production work. The lead guitarist's partnership with Eddie Wohl in Scrap 60 Productions already racked up clients like Cradle Of Filth and Jesse Malin, whose Glitter In The Gutter featured Bruce Springsteen and Ryan Adams. But with the February announcement that Caggiano had actually joined Danish rock bombers Volbeat, the statistics rang a bell. The Anthrax veteran for the better part of 12 years is playing the Aragon Ballroom in Volbeat on the very day Anthrax plays at House of Blues without him. Let's get ready to rumble?
"I love the guys, and I think we're all on good terms," says Caggiano by phone before a show in Oklahoma City, one day after approving the final mixes for Volbeat's Outlaw Gentlemen & Shady Ladies (due out 4/9 on Vertigo/Republic). "They get it. It just kind of is what it is. I think Scott [Ian] is actually going to get onstage with us at some point [after the Chicago date] . . . we'll see if it actually happens."
Appearing: 4/5 at Aragon (1106 W. Lawrence) Chicago with Danko Jones.
The New Yorker claims he agreed to produce Volbeat's fifth studio effort before he became a member of the group. "When I got to Copenhagen and started going through the material [in January], a bunch of stuff was already written, but there were a few songs that weren't completed yet," he explains. "When I sat down with [vocalist/guitarist Michael Poulsen], he was like: 'What do you hear in this section? What would you do here?' And I said, 'O.K., let's do this!'"
Thank the universal language of sports for at least one overenthusiastic American taking Volbeat's "A Warrior's Call" literally, knocking out a fellow concertgoer in a fight timed to its performance. Though the guilty pleasure off 2010's Beyond Hell/Above Heaven was written for Danish boxer Mikkel Kessler to use during the WBA super-middleweight champion's ring entrance, the novelty pummeled its way to No. 1 on Billboard's U.S. Active Rock chart in 2012. "Cape Of Our Hero," the first single off Outlaw Gentleman & Shady Ladies, indicates the new album reaches farther than the left hook that landed Volbeat into American consciousness. Caggiano's production frees the act's deep-cut penchant for old-fashioned melodic pop, putting Poulsen's sad (but true) heart at the forefront of a track that too easily could have used dense power chords as bait. On a discography mixing metal, punk, and rockabilly, big-production pop isn't shocking. What's shocking is Volbeat covering a recent indie-rock hit (Young The Giant's "My Body") while continuing their tradition of honoring the forefathers of extreme metal (King Diamond's guest appearance on "Room 24").
"As a producer, my main goal was to capture the energy of this band's live show, which I always felt was lacking on their previous albums," says the newest member, later boasting that he learned "probably 25" songs from the back catalog in seven days. "I really pushed everyone a lot, as far as the playing goes and the performances, just the overall energy and vibe of everything . . . the vibe was great, the chemistry is great, and we were just collaborating, and I was being creative. It's such an amazing feeling, having not been able to do that for a while."
For the full feature, click on the issue cover or grab a copy of Illinois Entertainer, available free throughout Chicagoland.
— Mike Meyer