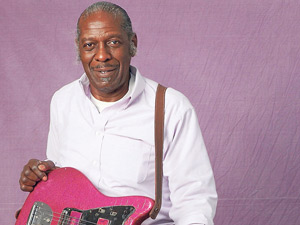 (Ed. note: Eddie C. Campbell suffered a heart attack and stroke last week while on tour in Germany, according to WXRT-FM (93.1) DJ and host of "Blues Breakers" Tom Marker. We wish him a speedy recovery.)
Eddie C. Campbell is a Chicago treasure. A master craftsman of the city's West Side blues sound, he's still pumping out funky blues riffs with an innovative twist, as evidenced by his latest offering, Spider Eating Preacher (Delmark.) Quirky and spilling over with distinctive guitar licks and memorable verses, the album delivers a full hour of blues fun.
After his last album, the riveting Tear This World Up (Delmark), was nominated for a Blues Music Award for Album Of The Year in 2009, Campbell has pushed his musical skill even more with this follow-up. Delivering 15 sprawling tracks that touch on varied aspects of his influences, Spider Eating Preacher showcases the bluesman's legendary chops, humor, and originality. It also highlights his family, including his wife Barbara who wrote the title track and plays bass, son David who plays violin on two tracks, and godson Lurrie Bell lending guitar and vocals on two other tunes. The result is a highly personal album demonstrating that classic Chicago blues can still sound fresh.
The title track, a bizarre song that relates his wife's ordeal with blindness, sets the tone. A jaunty rhythm camouflages the tale of a devil disguised as a spider spinning webs all around and over her eyes. It's an unusual topic, but Campbell quickly reverts to the familiar with "Call My Mama." Bearing a close musical resemblance to Howlin' Wolf's "Smokestack Lightning," Campbell belts, "Call my mama and tell her what you teachin' me/Cause I'm a good boy." A percolating groove and a guest appearance by Bell calls up such gritty Chicago blues that you can almost see the dust flying from the juke joint. He rarely tackles covers, but his interpretation of Ricky Allen's "Cut You A-Loose" hits just the right jazzy tone. Campbell even reinterprets his own work with "Soup Bone (Reheated)," one of his first 45s from the '60s, restyled with a tasty bass line and humorous lyrics: "I got a soup bone/And I'm hungry/I'm a put this soup bone down/And try me some collard greens."
There's a lot to love about this expansive offering; Campbell seems to unleash all of the skills he earned playing with Muddy Waters, Willie Dixon, and Magic Sam. The deep guitar strut of "Starlight" serves up instrumental magic and a surprising cover – the Ohio Players' '70s funk classic "Skin Tight" – gets a blues makeover for an infectious good time. Campbell shows off on Spider Eating Preacher, stretching beyond the tried and true, but he fittingly returns to the source for the final number – the charming "Playing Around These Blues." Joined by ? with just acoustic guitar and harp, the song explains their blues journey with a simple Delta blues sound.
In celebration of their 20th anniversary, blues supergroup Mississippi Heat provides a solid collection of the stylish blues that they do best with Delta Bound (Delmark). In the '90s, founder Pierre Lacocque created a collective that paid tribute to his reverence for classic blues, but with a sophisticated, contemporary spin reflecting the group's slogan: "Traditional blues with a twist." Despite lineup shifts over the past two decades, it's a telling sign of the band's spirit that most have returned for this high-energy disc.
Delta Bound encapsulates the essence of the Mississppi Heat sound over 14 tracks. The scorching opening tune, "Granny Mae" highlights the energy the band is noted for with lead vocalist Inetta Visor wailing over electrified harp blasts. The catchy "Look-A-Here, Baby" shows off Lacocque's skills as a contemporary songwriter without sacrificing its classic blues flavor. The lone cover tune stands out thanks to an unexpected delivery wrapped in fiery harp and guitar. Visor makes the Animals' '60s classic, "Don't Let Me Be Misunderstood" her own with restrained, yet evocative vocals. Nina Simone's famed remake should glide this smoothly.
Other standouts include the silky, jazzy blues ballad "Goin' To St. Louis," flavorful instrumentals on "Lemon Twist," and the showstopper, "Sweet Ol' Blues." Deitra Farr's simmering Chicago blues send-up sums up everything: "Sweet ol' blues/I'm so glad you're my friend/You are my trusted companion/Yes, my pal forever on end."
Blues offspring typically struggle with filling legendary shoes, but not John Lee Hooker Jr. The son of the iconic King of Boogie doesn't copy his dad's infamous growl and he makes no attempt at guitar. What he does do is produce entertaining contemporary blues on his latest release, All Hooked Up (Steppin' Stone Records).
Graced with commanding vocals and keen storytelling chops, Hooker weaves blues tales effectively. A performer since he was eight years old and recording with his dad by 18, Hooker's well-honed blues pedigree shines throughout the album. The first track, "Tired Of Being A Housewife" blasts out in a mélange of hot horns and guitar licks as Hooker tells of a housewife bored by friends bragging on Facebook and a porn-addicted husband. A duet with Betty Wright cooks up classic '60s soul/blues on "I Surrender," and "Hard Times" displays the essence of the blues with hard-hitting vocals and a story of suffering and barely surviving.
A bonus DVD featuring an animated video of Hooker's "Dear John" is an extra treat. The clip follows a man thrown into jail as he reads a devastating "Dear John" letter. It's a great addition to a modern bluesman's story.
— Rosalind Cummings-Yeates
Category: Columns, Monthly, Sweet Home