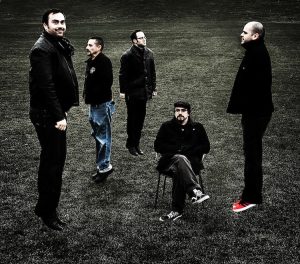 Chicago-based quintet Fetch have gone "old-school" by releasing a series of 7-inch singles. Deciding to ditch more commercially viable formats like the compact disc or digital download, the band (bassist Jared Beach; vocalist Scott Schaefer; guitarist Odie Schaefer; drummer Tommy Schaefer; guitarist Kegan Simons) devised a plan at its Humboldt Park HQ to release a batch of new material in partnership with Chicago's legendary Pravda Records. Each installment of its Matchbook series features limited, hand-numbered, vintage matchbook-inspired cover art and a colored-vinyl companion. Early this month the band will be tracking again at Kingsize Sound Labs with producer/engineer Mike Hagler (Wilco, My Morning Jacket, OK GO, Billy Bragg, Neko Case) to continue recording the next collection of singles, which will be delivered in "rapid succession throughout 2013, one crackling needle drop at a time," according to the band.
Longtime Chicago trad-metal band Funeral Nation have reformed and are releasing an EP of completely new (and recently recorded) music, plus reissues of some unreleased classics from its catalogue. The band will host a CD release listening party on Jan. 27 at Exit. The band also appears as guest DJs that night for Chicago Metal Factory.
Second Coming is two releases. The first half was recorded in the summer of 1997 at Elmwood Park's Metropolis Studio with Matt Mercado (Mind Bomb) engineering. Featuring Chaz Baker on guitar, Dean Olson on drums and Mike Pahl on bass and vocals, these recordings were never released because of the band's '97 breakup.
Additional demos were recorded in 1992 at Acme Studios in Chicago with Blaze Barton engineering. The band told IE's Mike Engel, "This was originally put out on cassette [titled Benediction] and only a few hundred copies were pressed. Even though both [1992 and 1997] sessions were recorded as demos and not a ton of money was spent on the recordings, we wanted to get them put out officially as a full-length release. Before now most of these songs have never been heard by most people, unless they were at one of our shows in the '90s. This is the recording that has been talked about in underground blogs and shows.
"Finally Devil's Radio [part of Second Coming] was a live recording we did on WRRG college radio during the summer of 1996."
At BobDog Studios in Oak Park, owner Bill Kavanagh installed a new top-of-the-line Sweetwater Creation Station studio computer . . . Dav Ero released his 28-track, BDS-recorded Hamlet, The Vampyr. George Maddela returned to continue work on his collection of Indian Christian praise music. Cheryl Tomblin's Pipes held an EP release party at Friendly Tap in Berwyn last month featuring songs by Cheryl on vocals, acoustic guitar, and violins, and Bill Kavanagh on fretless bass guitar.
At I.V. Lab, Henhouse Prowlers were working on a new full-length record of bluegrass, MER made final tweaks on new music. Sidewalk Chalk tracked music and Rollin Weary recorded for its upcoming Without Waves EP.
Hey Studiophiler: To get your studio or band listed in "Studiophile," e-mail info on who you're recording or who's recording you to ed@illinoisentertainer.com, subject Studiophile, or fax (773) 751-5051. We reserve the right to edit submissions for space. Deadline for February 2013 issue is January 15. Start the new year off right, let us know who you are tracking.
Category: Columns, Monthly, Studiophile