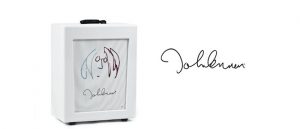 Fargen Amplification
John Lennon Signature Guitar Amplifier
Yoko Ono honored John Lennon's memory by choosing boutique amp manufacturer Fargen Amplification (used by Joe Satriani and Steve Vai) to produce a limited-edition line of John Lennon Guitar Amplifiers and effect pedals.
According to Fargen, "the line pays tribute to one of the greatest artists of our time, and combines John Lennon's signature tone with his world-renowned artwork – providing a unique experience for musicians and fans alike."
The first offering among the Lennon collectables is the limited-edition Artist series amp housed with Plastic Ono Band-era custom white components throughout its design, including a special acoustically transparent and UV-protected grill cloth that features a reproduction of Lennon's Two Virgins artwork.
Five of Lennon's designs are offered in limited numbered editions of 11 each. The next release will be a limited-edition Imagine series amplifier. Also built with custom white components throughout, it sports a gorgeous gloss white lacquer finish, with elements of  the former Beatles' sketches peaking out from under the smooth surface. The Imagine series – offered in a limited edition of 51 amps – will be available to the public soon.
What sets this line of amps apart for Lennon collectors is its production by a small business owner and true fan: "I am proud, excited, and truly humbled to have the honor to build this line (of amps). John Lennon is an iconic artist, poet, musician, and composer, and I am thrilled to bring the vintage John Lennon vibe to his fans, and to musicians across all genres that have been influenced and moved by his genius," designer Ben Fargen commented.
Both amps include proprietary components and custom design that dampens cabinet vibration. It utilizes Fargen's "Decade Switch," which allows the player to instantly switch between Lennon guitar tones across the Quarrymen, Beatles, and solo eras of his career.
Fargen will release additional designs in the series later in the year, as well as a production series amplifier based on the circuit, and two guitar effect pedals. Fargen has licensed the rights to produce this line from Ono, along with Bag One Enterprises and Live Nation Merchandise and is distributing it on its website (fargenamps.com). Special orders can be purchased through Guitar Center. MSRP for the first of the Lennon amps is $4995. Additional details available at fargenamps.com.
ROLAND
GR-D V-Guitar Distortion Pedal
Roland's expansion of its V-Guitar Synthesizer series continues with its GR-D V-Guitar Distortion and GR-S V-Guitar Space pedals, what the company calls "two revolutionary new stompboxes designed for use with the GC-1 GK-Ready Stratocaster and other GK-compatible guitars with a 13-pin output."
Constructed in their time-tested twin pedal format and equipped with connections for standard pedals, amps, multi-effects, and other GK devices, the V-Guitar pedals deliver a wide range of sounds unique to Roland's GK processing and guitar synth technology.
When combined with a guitar dressed up with a Roland GK pickup, the V-Guitar pedals allow players with traditional setups to use Roland's GR-55 Guitar Synthesizer and VG-99 V-Guitar System.
The GR-D V-Guitar Distortion offers four new distortion sounds (plus poly distortion and synth sounds) that only synth processing can conjure.
As expected, the pedal offers control for Gain Tone, Solo, and Level – allowing the user to shape the sound with four memory locations provided for storing custom settings directly from a compatible guitar.
Roland recommends purchasing a GK-ready Fender Stratocaster or other GK-compatible guitars (available at your local dealer) instead of buying the pedal on its own, since it's not practical or cost-effective as a standalone item .
Roland also sells the GK-3 divided pickup allowing players to add synth compatibility to their favorite guitar with no modification. MSRP for the distortion pedal is $419, with a street price of $299. Find more details at rolandus.com.
— David Gedge