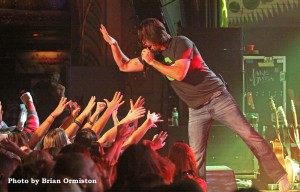 On a balmy late November night, Jake Owen and friends worked to keep summer alive at a jam-packed House of Blues.
Florida Georgia Line and Love And Theft warmed up the crowd with short sets using the tight front quarter of the stage.  While they helped beer sales and allowed everyone time to jockey for a prime floor position, it also let them polish off a few of their album-filler songs before launching into the chart toppers everyone wanted to hear.  Newcomers Florida Georgia Line finished with "Cruise," (currently sitting in the second position on *Billboard's country charts), which is poised to keep their energetic style on the road – they are just going to need a few more identifiable tunes, however, to keep paying their roadies.  Love And Theft's set dragged on, only prolonging the agony of waiting for Owen, the man of the hour on this second night of his CMT sponsored stop.  Redemption finally came with "Girls Love To Shake It" and 2011's hit "Angel Eyes."
The headliner is allotted certain benefits, like a full-on light show, flickering video screens, and use of the full stage. The latter is key when a lawn of shag carpeting is required so Owen can comfortably perform in bare feet. This country party boy has a deep pool of hits to draw from. Starting his nearly 90-minute set with "The One That Got Away," he eventually wound through other favorites "YeeHaw," "Alone With You," and "Tell Me." He brought back the boys from Florida Georgia Line mid-set for their "Summer Jam" song. A bizarre rap session that had no direction or made any sense followed.  Country singers trying to rap are like rappers trying to sell a serious breakup song.  Once back on track, Owens quickly returned to form with "Barefoot Blue Jean Night."
Owen's mix of party tunes and ballads easily satisfies the different moods of his fan base, be it in concert or blasting from an iPod. The barn-raisers shook the House of Blues floor with the ensuing foot stompin' from the crowd. The show's sold-out status made for tight quarters, so even the drunks couldn't fall over. A full house is usually tough on the bouncers, good for the box office, and better for the bartenders.  When the show from the stage played out as it did Friday night, everyone goes home happy.
— Brian Ormiston
Category: Featured, Live Reviews, Weekly