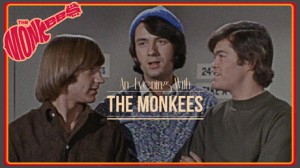 One of the first of many nostalgic images flashing across a big screen at the Chicago Theatre during the sold-out performance of The Monkees last Friday night showed the band decked out in top hats and tails. It drew a huge round of applause and foreshadowed an evening of good-time, almost old-fashioned entertainment. Original members Michael Nesmith, Micky Dolenz, and Peter Tork, backed by a seven-piece band, journeyed deep into an eclectic catalog of mid-1960's material. Anyone who came in only knowing the group's biggest hits likely left feeling stunned – but in a good way.
Still dismissed in some circles as actors who pretended to be musicians on a sitcom, The Monkees started writing original material while the TV series was on the air but didn't hit a creative stride until LPs like Headquarters and Pisces, Aquarius, Capricorn & Jones, Ltd. The current 12-date tour, which reportedly was already in the works before Davy Jones' untimely death, gives the surviving members an opportunity to showcase just how inventive and talented The Monkees can be. It helps that all three have vibrant voices, and they pretty much play the same quirky roles that made the TV show an instant success in 1966. Dolenz and Tork exude a childlike energy while the more reserved Nesmith prefers a droll approach.
Forgive the audience for casting a wary eye on Nesmith, who has always seemed the most reluctant Monkee to participate in reunions. He occasionally performed with his mates over the years, but this is his first actual tour with them in quite some time. Fortunately, he seemed in good spirits, even during some technical difficulties with his guitar. The three band members exuded palpable chemistry; starting with the opening number, "Last Train To Clarksville." The band immediately switched to more obscure tracks, "Papa Gene's Blues," a country-flavored song that featured Nesmith on lead vocals; and "Your Auntie Grizelda," which found Tork delivering the silly lyrics while strutting around like a Broadway performer.
From then on, it was an almost equal mix of hits like "She," "I'm A Believer," and "(I'm Not Your) Steppin' Stone" along with lesser known fare like "Sweet Young Thing" and "You Just May Be The One." Dolenz was particularly impressive on the Gospel-flavored workout, "Goin' Down" and very British sounding rave-up, "Randy Scouse Git." On several occasions eye-popping footage on the big screen augmented the live performance, particularly during psychedelic selections like "Porpoise Song" and "Can You Dig It?" from the band's 1968 Avant-garde movie, Head.
The Nesmith-penned "Daily Nightly" from Pisces, Aquarius, Capricorn & Jones, Ltd. (believed to be the first rock song to feature a Moog synthesizer) showed these guys haven't lost their touch for clowning around. Dolenz introduced it as a song, "That has never been performed before . . . and rightfully so," while adding that the lyrics were completely incomprehensible. Nesmith explained Moog synthesizers were too expensive and cumbersome to take on tour, and then vocally tried to recreate the instrument's unique sounds. Dolenz, who was singing lead, was barely able to keep from laughing.
There were well-crafted video interludes honoring Davy Jones at various times, but the most touching tribute came toward the end of the concert when the band invited the audience to provide the vocals for "Daydream Believer" and overwhelmingly obliged. It proved to be the defining moment on an evening when The Monkees had been able to reconnect with some of their most loyal fans.
— Terrence Flamm
Category: Featured, Live Reviews, Weekly