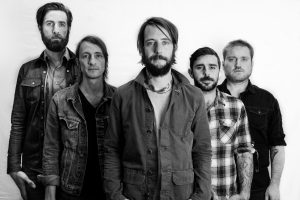 You wouldn't know it to look at him. But bearded, flannel-shirted folk-rocker Ben Bridwell – of Band Of Horses renown – is quite the sports enthusiast. All kinds of sports. It's not unusual, for instance, to find him (along with his bandmates) shooting a few hoops after shows, just to relieve the stress. "I like messing around on a basketball court with a ball," swears the skinny singer, 34. "I mean, it's not like we're wearing cowboy boots and actually playing two-on-two or anything. But we play some Horse, we play some trick shots – we're definitely honing our trick shots – and it's just something to do to take a break from thinking, you know?"
Appearing: 12/2 at Chicago Theatre (175 N. State) Chicago with Alabama Shakes and Everest.
That's just for starters. Bridwell married Elizabeth McCann three years ago, and the couple already has two daughters, Ivy and Annabelle. "So besides being a dad, which takes up a lot of time, my other main passion – when I'm not doing this music thing – is my love for college football," he reveals. Between Band Of Horses and the gridiron, he adds, "I'm not sure which one I love more sometimes, because I will sit there onstage and get Twitter updates on games. Or I'll throw out a 'Son of a bitch!' in the middle of a funeral or something, because I just got a score update. But I love college football, man, and I love to surf, when I get the option. But right now it's all music, daddy stuff, and college football."
Bridwell backs one squad in particular – the University of Georgia Bulldogs. "Which has been a tough go the past three years," he sighs, resignedly. "Actually, as long as I can remember, it's been kind of a terrifying experiment. But that's my team, man. And I just love to watch SEC football. That's my thing." But the man is full of surprises. Like Mirage Rock, his group's new follow-up to its Grammy-nominated 2010 breakthrough Infinite Arms. Offered his pick of producers by a grateful label, Columbia, he could've gone for Britain's red-hot Ethan Johns, who's overseen other folk-minded rockers like The Vaccines, Kings Of Leon, The Boxer Rebellion, and even Sir Tom Jones for a recent all-gospel barnstormer. He had that option.
Instead, the bandleader went back one generation and hired Ethan's father, Rock and Roll Hall of Famer Glyn Johns, known for his knob-twiddling expertise with The Who, The Beatles, and The Rolling Stones, to name just a few feathers in his illustrious cap. What they came up with together on Mirage Rock preserves the fan-pleasing alt-country twang of Infinite Arms and also time-warps it back four decades with coliseum stompers like "Feud" and "Knock Knock;" Merseybeat janglers like "A Little Biblical" and "Slow Cruel Hands Of Time," plus a few reverb-drenched anthems ("How to Live") and some decidedly CSNY-harmonizing acoustic strummers ("Dumpster World," "Everything's Gonna Be Undone"). The album closes with a skeletal, almost spoken-word piece, "Heartbreak On The 101," that touches on another surreal aspect of Bridwell's life – a time in the late '90s when he was actually homeless, living on the streets of Seattle.
Bridwell is a big fan of one of Glyn Johns' most definitive production efforts – The Faces' A Nod Is As Good As A Wink . . . To A Blind Horse, featuring Rod Stewart and Ron Wood at their sloppy, circa-'70s surliest. And don't get him wrong, he cautions. "I would be honored to work with Ethan as well – he's no slouch. But to work with the source of my parents' – a lot of our parents' – record collections, stuff that we really grew up on, the songs that I heard every night while trying to go to sleep while my parents were partying in the other room? To have that kind of opportunity is not something you turn down. And this album might have been different [without the elder Johns] . . . But if people don't get it, that's O.K. – they don't get the whole mindset that, 'Yeah, there are gonna be some genre exercises. And there's gonna be some material that's pandering to classic rock that we love about Glyn's catalog.' But if they don't get it, I'm kind of psyched in a way, because it was designed for them not to get it, really."
How did Horses rein Johns in? Indirectly, thanks to Ryan Adams, says Bridwell (they're both handled by the same management team and Johns had just finished working on Adams' 2011 album Ashes & Fire.) Bridwell was more than capable of manning the mixing board himself. "But I knew we wanted to go with a producer on this record – I just wasn't sure who, so you start making this wish list," he recalls. "And luckily, management said 'If you're interested, we could get Glyn on the phone.' So his interest was perked up, and he gave me a call, and we just chatted. Then he came out and saw a show, and we hit it off famously."
— Tom Lanham
For the full story, visit the issue through our partners at ShadeTree, or grab a copy available free throughout Chicagoland.
Category: Featured, Features, Monthly, Uncategorized