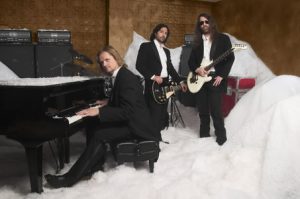 Paul O'Neill is finding it difficult getting into the Christmas spirit this year. The last of his guests arrived last night, and today they're putting the finishing touches on the annual holiday lights display. The patriarch of the family is certain this year his lights will impress everyone who gets to see them. (Spoiler: He has synced them to music!) Snow is in the forecast, and there's a palpable sense of good will toward men in the air. So why be a Grinch? O'Neill remarks "preproduction" should have started weeks ago.
This isn't the average family of four decking the halls, mind you. This is Trans-Siberian Orchestra, with multiple touring companies comprising 80-plus musicians. Many members spent precious time trying to outwit something that never appeared on the schedule: Superstorm Sandy. 'Tis the season for flight cancellations, bridge-and-tunnel closures, and power outages.
"I'm so behind on everything because of the hurricane [sic] throwing everything out of kilter on a mind-boggling level," says the behemoth's founding producer one week after the extreme weather event effectively paralyzed the East Coast, home of his yuletide symphonic-rock spectacle. It had been a "great" offseason for the band that juxtaposes classical music and progressive-metal instrumentation: Billboard listed Trans-Siberian Orchestra as the No. 7 grossing touring production in the country (between Nov. 1, 2011 and May 31, 2012); the group finished a new five-song EP, Dreams Of Fireflies (On A Christmas Night) (Republic/Lava), containing its first overt Christmas material in eight years; and O'Neill settled TSO in Florida to charge its batteries for a live winter blowout based on 2004's double-platinum The Lost Christmas Eve that is set to light up Allstate Arena twice on Dec. 8.
"I started to grow in love with Florida because . . . the air is clean, it's great for our singers. The only bad thing that could happen is a hurricane," the baby boomer explains in storytelling fashion, pausing dramatically, "and we have five days notice to get out of town!" Sandy was wreaking havoc on the Caribbean islands and heading toward the southeast Florida coast. "We fly the whole band up to New York City to start preproduction . . . but then all of the sudden, we heard about this hurricane," he continues, groaning. "It's not heading to Florida, it's heading to New York! So we scrambled." The operation slowly regrouped at an unused minor league hockey arena near Omaha, Nebraska.
O'Neill says he and ex-Savatage frontman/multi-instrumentalist Jon Oliva are running the show. Business partners since the mid-'80s, they've long employed novel solutions to persevere through life's foul weather. While Oliva was on hiatus from Savatage in the early '90s, O'Neill summoned him to execute a performance on a Steinway piano that no hired hand could muster for Edge Of Thorns. The producer recalls: "I'm getting piano player after piano player, and they'd get the notes, but it didn't sound like Jon. Jon has a way of putting words into the notes. And after two weeks of going crazy . . . I just called Jon and said, 'Jon, I don't care what you're doing. Get on a plane. Come down here, and please replay that part.' And Jon comes down. Fifteen minutes later, it's done."
After Oliva's brother and Savatage's founding virtuosic lead guitarist, Criss, died in a 1993 collision with a drunk driver heading the wrong way on a divided highway, the band's formative Florida metal catalog was in danger of going out of print. A new album would have to be delivered to the record label. "So I called Atlantic," O'Neill explains. "I said, 'We're going to turn in a Savatage album.' And they're like, 'Who's in the band?' And I'm like, 'I don't know.' But when we went into the studio [for Handful Of Rain], Jon played the bass, the drums, the keyboards. He did all the guitar solos except the super fast ones."
By the time alternative rock overshadowed heavy metal in the '90s, Savatage was under the influence of musical theater, in particular the work of Andrew Lloyd Webber. O'Neill, a former touring guitarist in a production of Jesus Christ Superstar, laughs while retelling the story of how he bought Jon a front-row ticket for The Phantom Of The Opera. He figured the four-octave howler might learn something. "Every time Jon gets exposed to new types of music," he continues, "it comes into his writing." Savatage's resulting Gutter Ballet set the tone for the symphonic-rock escape route bands like Guns N' Roses employed when four chords and flannel were king. "November Rain" arguably wouldn't exist in its current form had "When The Crowds Are Gone" not been released six months before the recording sessions for the Use Your Illusion albums began.
Savatage's transformation into Trans-Siberian Orchestra was ostensibly complete toward the end of 1995's Dead Winter Dead. The dynamic "Christmas Eve (Sarajevo 12/24)" pulls instrumental quotes from "God Rest Ye Merry, Gentlemen" and "Carol Of The Bells" and unites the morphed melodies with full-bore, electricity-gulping, arena-ready bombast. Like this year's EP – which features O'Neill on guitar and Oliva on piano – it's part diamond commercial, part classical music for classic rock fans, bound by theistic winter mystery. The same song with a slightly altered title was released a year later on TSO's official debut, Christmas Eve And Other Stories
The holiday fare signaled quite a departure from the ironclad nasal sleaze of Savatage's 1983 debut Sirens, an album so raw that it influenced Florida's future death metal players. On the Cannibal Corpse DVD set Centuries Of Torment, the Tampa scene gushes. "If you ask any of the kids here, they all grew up on Savatage," remarks Scott Burns, former resident recording engineer at Morrisound Studios, where much of the earliest death metal was recorded. "They're like the gods and the godfathers," continues Ralph Santolla, former guitarist for Obituary and Deicide. "We all worship Jon Oliva and Criss, and they're the band that put Florida on the map."
That was then. This is now. As O'Neill ponders the news from the East Coast today, with Manhattan residents siphoning power from TV trucks for their cellphones, he realizes how fortunate he is to be in Nebraska, weeks behind schedule. The New York City native vows to fans, past and present: "The core of The Lost Christmas Eve is hope and redemption, and especially hope. If we do our jobs right, when they leave the arena, they won't think that they're going to be able to beat all these speed bumps that have been thrown at them. They'll know it."
30 YEARS BLOODY: If Chicago black-metal outfit Doomsday's decision to sink a GG Allin And The Murder Junkies cover tune into its ribcage-bursting, self-titled debut surprises you, then you haven't been paying attention to what impassions extreme musicians. Scum-punk rocker Allin earned notoriety for performances involving physical violence against audience members and unfathomable depths of self-harm, captured in Todd Phillips' rubbernecking documentary, Hated. He died young: 36 in '93. Many said he wasn't young enough. Others wished he held out for the onstage suicide he promised.
Allin's sadomasochistic rock lives on in black metal, showing the cracks in the wall between metal and punk. The aforementioned song, "I Kill Everything I Fuck," was also covered during Doomsday guitarist/vocalist Jon Necromancer's tenure in Nachtmystium, as well as by the noxious Grand Belial's Key. Longtime Allin friend and co-conspirator who lurked in Peoria for decades, Bloody F. Mess was punk before the term "crossover" existed in the underground lexicon. He lifted his name in 1983 from "Bodies," a Sex Pistols song about abortion. He still goes by the moniker – it's tattooed on his back – carrying with it an old distinction. "It was strictly metal or punk, or get your ass kicked. Pick one," he says with a rough chuckle. "Long hair or short hair, which one? That's just the way that it was."
Mess toured with Allin throughout the '80s and helped pen at least two of the transgressive legend's songs. A posthumous hodgepodge CD informally known as The Bloody Years compiles phone conversations between Allin and Mess and collaborations between the pair's own shock-rock band at the time, Bloody Mess & The Skabs. As the social liberal begins celebrating his 30th year playing punk rock, he attempts to distance himself from past controversies: the fires, the arrests, some of the nudity.
"I don't really consider myself in that vein anymore," Mess explains over the phone from his home in Southern Oregon. "Today, with everybody being so jaded with the Internet and technology, a lot of people have seen it all and done it all. The times are a little different. GG left an impression because he was sort of like the American Sid Vicious . . . a modern-day outlaw punk rocker guy that has this big myth behind him, which is awesome. He deserves to have it because he built that for a reason. But things were different." The former Peorian's current band, The Bloody Mess Rock Circus, plays a decidedly less vitriolic form of punk owing more to glitter rock than Allin. The singer calls it "punk 'n' roll" as a smile becomes audible through the phone. "I've learned how to finally perform for people."
That same technology makes it difficult for Mess to hide facts surrounding his infamous pen pal correspondence and prison visits with serial killer John Wayne Gacy while the murderer was on death row in downstate Chester. Gacy's drawing of a bleeding skull was used as cover art for Bloody Mess & The Skabs' first EP. Anything for publicity, sighs Mess. "We were completely out of our heads, you know?" He shares a spectacular, if dubious plan for his first trip to Menard Correctional Center: "I went there literally just thinking I'm going to cop a little buzz and go in there and just punch this guy. Who in this country is going to be against me? That'd be great. My band would get immediate recognition. But, just being a human being, the guy was a likable guy. He was nice. I know he deserved to die for what he did, and I know he was a complete liar and psychopath and sociopath, but while you're face to face and they're actually being nice to you and buying you stuff and talking to you, you're like, 'Oh. Oh well. I couldn't hurt this guy. I couldn't punch this guy in the face.'"
The Gacy story may characterize Mess as a crackpot, a con artist, or a potential victim, but the vocalist's dark curiosities fostered friendships with like-minded Central Illinois musicians on the other side of that punk/metal wall. "He is still one of the greatest persons I have ever met," writes Impetigo gurgler/bassist Stevo Dobbins, referring to Mess, in the death-metal book Glorious Times. Mess remembers trading cassette tapes with Dobbins and admiring Impetigo's interests in "morbid, crazy stuff" like Creepy magazine and splatter films. The two vocalists contributed to each other's albums at the dawn of the '90s: Dobbins sang backup on three songs on Bloody Mess & The Skabs' bile-spewing 6th Grade Field Trip while Mess wrote and performed the sickening poetry bit in "Unadulterated Brutality" on Impetigo's grinding Ultimo Mondo Cannibale. Neither frontman got his ass kicked while collaborating with the other. Mess comments, "I mostly had long hair during all those punk years."
MOSH-WORTHY . . . LIVE: King Dude (Empty Bottle, 12/12); Janus (Another Hole In The Wall, 12/15); Macabre (Reggies, 12/22); Screeching Weasel (Reggies, 12/30 and 12/31); Naked Raygun (Cobra Lounge, 12/31).
MOSH-WORTHY: Gold Interbellum (Van); Ares Kingdom Veneration (NWN! Productions); Arbogast I (Nefarious Industries); Anaal Nathrakh Vanitas (Candlelight); Porcupine Tree Octane Twisted (Kscope).
— Mike Meyer
Category: Caught In A Mosh, Columns, Monthly