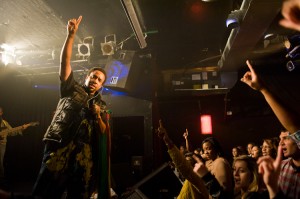 "We're celebrating 20 years of revolutionary hip-hop," declared Arrested Development's frontman Speech at Monday night's high-energy anniversary show at Double Door. Sure, hip-hop acts have been known to loosely throw around the term "revolutionary" over the years, but this Grammy-winning, Atlanta-based act arguably helped changed the way hip-hop was heard by the masses.
This is a group who had the playful wit of De La Soul, the activism of Public Enemy, and the edutainment factor of KRS-One all mixed into one with a Southern resonance that managed to stand out in hip-hop's impressive golden era of the early-'90s. This Chicago stop celebrated the anniversary of the 1992 album that started it all for the group: 3 Years 5 Months & 2 Days In The Life Of . . .
While the show promotion emphasized that Arrested Development would perform its debut, the band opted to focus on an upbeat medley of its two decades of feel-good, yet thoughtful music instead of a straight-up recreation of any one album. And this included songs from the group's latest release, Standing At The Crossroads. But AD was fully aware that songs from its debut like the Sly And The Family Stone-inspired "People Everyday" or the up-tempo, introspective "Fishin' 4 Religion," are what people paid to hear. Thankfully for the audience, Speech, lively vocalist Tasha Larae, and the rest of the group didn't half-step these renditions.
Complete with a vest and paint-splattered overalls, Speech and Co. looked like they were pulled out of a '90s time capsule and this was true sonically too. Utilizing classic call-and-response that actually worked and highlighting the dance element during songs like "Mr. Wendal," this did not look or sound like your average hip-hop show. It was strange that they ended the show in just under an hour only to come back for a five song-plus encore. But for those that stuck around, the energy they gave Arrested Development was given right back until the end.
— Max Herman
Category: Featured, Live Reviews, Weekly