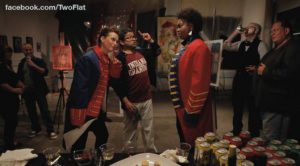 Chicago is one of the most talented cities in the country as comedians, actors, artists, bands, indie filmmakers, etc," says Craig Erpelding, creator and writer and co-producer of the new, independently-produced local sitcom, "Two Flat."
"I felt it was a tragedy that sitcoms that are supposed to take place in Chicago are really produced in L.A. by Hollywood actors," he explains. "We wanted to create a truly Chicago-centric series that highlights Chicago-based actors, Chicago locations, Chicago brands . . . because it only seems right."
The sitcom focuses on a local art blogger (Frankie Cusimano) and his bike messenger roommate (Neal Dandade) and their neighbors in a Ukrainian Village two-flat. It features local actors, art, brands, and locations as well as music from such homegrown acts as Naked Raygun, Maps & Atlases and Archie Powell and the Exports. (To have your music considered for the show, contact Erpelding at facebook.com/TwoFlat.)
The show was inspired by the Blizzard of 2011, "based off people being stuck in their two-flat for the winter due to a horrific Chicago snowstorm – including a one-night stand that turns into the worst 'day after' ever for a gal who can't leave from her embarrassing sleepover," he explains. "[The] problem was obviously, snow melts no matter how bad the storm was. So, the longevity of the series was very short."
The writers kept the same characters even after the thaw – including an aging hippie (Richard Strimer), a lesbian filmmaker (Karisa Bruin), and their unconventional landlord (Judy Rossignuolo-Rice). "Instead of the snow storm, they just meander through post-recession Chicago as residents of a Chicago two-flat," he says.
The producers covered the cost of the pilot out of their own pockets, and will use $995 from an indiegogo.com campaign to help fund five more episodes. The "sets" include Erpelding's Huron Avenue apartment and artist Mark Phillips' Wicker Park studio. Props such as beer cans, pizza boxes, and art come from local companies and artists. "I knew we didn't have much of a production budget, but for the show to look like it has real production value, we needed stuff to fill our set," says the Kansas City native.
The crew met in DePaul's digital cinema grad program (most are working towards MFAs) and cast members have done time at iO Chicago, Second City and Steppenwolf.
The pilot was submitted to October's New York Television Festival and Erpelding says he hopes to eventually partner with an online broadcast outlet to air the show's first six episodes.
Even if it does well, they have no plans to pull up stakes and head west. "I feel like I'd be cheating Chicago if we shot this anywhere else, and feel like that would be a deal breaker if a network wanted to take the show out of the city," he says, "but, I'd be happy to fly out to L.A. periodically to shake important hands and have expensive dinners.
"But this show is Chicago's show and with production facilities popping up here in town to facilitate dramas like "Boss" and "Playboy Club", there is no need for a sitcom like this to film anywhere else."
ODDS 'N' SODS: In case you missed it, Merlin Media-owned WIQI-FM (101.1) fired the entire news staff and flipped to an adult hits format. Then they brought over WLUP-FM (97.9) morning host Pete McMurray and news/traffic anchor Jane Monzures to morning drive (The Loop is also owned by Merlin Media). Apparently, Merlin wizard Randy Michaels hopes to siphon off some of Eric and Kathy's female listeners — an odd choice, given McMurray's past as an uber-male-skewing jock . . . Which reminds us: Eric and Kathy's WTMX-FM (101.9) "Don't Think and Drive" billboard is a favorite (although, we reach for the dial every time Eric Ferguson opens his mouth, thinking that we're hearing Mancow Muller's carnival barker voice) . . . Merlin-owned WKQX-LP (87.7) has added local DJ Shark to its lineup. Also known as Eric Austin, Eric Olson and Ric Stone, Shark did time at Q101 and the Zone and may also wind up doing double duty on WLUP using one of those monikers (full disclosure; this columnist and former DJ has also used the names Tina Trash and Kali Om) . . . Mike Sabbath has renamed his eponymous WPNA-AM (1490) radio show "Chicago Punk Rock Radio" and claims it's the only such show on the airwaves (Saturday nights at 11, and at blip.tv/ChicagoPunkRockRadio) . . . Right-skewing talk station WIND-AM (560) will hold a "One Night Only" event Nov. 3 at the Akoo Theatre, featuring a comprehensive lineup of past and present personalities including Dennis Miller, Glenn Beck, John Howell, Steve Cochran, Michael Medved, Dennis Prager, Hugh Hewitt, Mike Gallagher, Clark Weber and one. single. woman. — Amy Jacobson . . . Trainwreck or not, Jonathon Brandmeier's morning show on WGN-AM (720) is a rare treat: live, local "free" radio done with energy and humor at the crack of dawn. And his occasional off-the-cuff remark (such as a recent aside about a dental implant) gives some insight into the sharp, vulnerable human behind the wacky showman – the same one who gave us the brilliantly scathing "Unemployed Mo Fo" video (which you can still catch on YouTube). "Eat me, blog that and Tweet this," indeed!
— Cara Jepsen