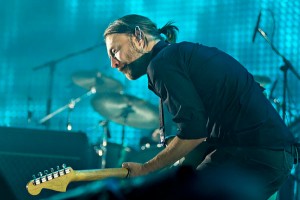 If you think this is over then you're wrong: Thom Yorke convincingly sang those words during the Radiohead's first encore Sunday night, at a near-capacity First Midwest Bank Amphitheatre.
Now rewind to 2011: the band released The King Of Limbs (TBD), its eighth studio album, played a handful of dates, and all but disappeared. Speculation was rampant that the band were finished. In actuality, they weren't even sure if the record could be performed live. Similar speculation arose in the wake of 2000's Kid A, but a now-legendary concert in Grant Park's Hutchinson Field put that to rest. Last night, performances of songs from Limbs should quell any further doubt about their playability.
Opener "Bloom" was a polyrhythmic clinic, with drummer Phil Selway and touring second drummer Clive Deamer both playing off each other without losing the way of their respective pockets. "There, There" amped up the percussion to almost gratuitous levels with guitarists Ed O'Brien and Jonny Greenwood pummeling double tom kits that mimicked rolling thunder.
If fact, almost everything played from Limbs felt like it had spent the last year in the gym. "Mr. Magpie" comes across as twitchy and anemic in its recorded form, but Sunday the composition took on new life. The plucky guitars now sounded hefty and acidic, like a cranky neighbor telling the kids to get off his lawn. "Lotus Flower" was dance-club ready, courtesy of how Colin Greenwood's lumbering basslines hovered over a monster backbeat.
The band also dug deep into their catalog, playing "Amazing Sounds Of Orgy" (a b-side from the Amnesiac sessions), "Staircase" (a Limbs outtake), and even debuted a new song, the propulsive rocker "Full Stop." In typical Radiohead fashion, Yorke even joked at the song's end that "It'll get better with age," despite the fact that it already sounded fully formed.
But therein lies a fundamental reason why Radiohead continues to remain relevant. Just when they ride a successful wave of guitar rock (Pablo Honey and The Bends), they jump ship and head off in a completely different direction (Kid A and Limbs). Chasing the muse into those dark alleyways doesn't always result in far-reaching chart positions. But when you're arguably the greatest live band on the planet, those shadows behind the dumpster seem a lot less intimidating.
— Curt Baran
Category: Live Reviews, Weekly