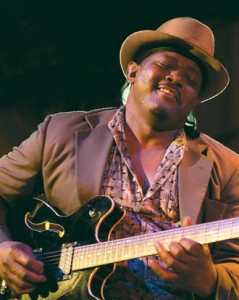 Much has been discussed about the direction that blues will take as the genre enters the crossroads of redefining itself while the last of the Delta bluesmen pass away. The past few decades have introduced more rock into the traditional blues sound, but soul has always been a more devoted offspring. Detroit's singer/songwriter/guitarist Quintus McCormick proves just how heavenly the pairing can be on his third release, Still Called The Blues (Delmark). Of course, there's nothing new about blues/soul, but McCormick pumps it with such a vibrant doses of contemporary edge that he sounds like the second coming of Johnny Taylor fortified with new-school swagger.
The key to McCormick's winning blend of riffs and melodies isn't his expert guitar work or his gritty vocals, but his songwriting. The album's 13 tracks boast seven that are originals, and McCormick stamps each with his soulful style while adding unexpected tones to the covers.
The opening track, the ridiculously catchy "I Gotta Go," mixes a smooth R&B groove with some nasty blues licks for the perfect combination of both genres. This is followed by a funky cover of Bobby Rush's "What's Good For The Goose," which McCormick makes his own with a slightly tighter delivery and an intro explaining "Back in the day, I used to be a player."
The CD is full of highlights, but standouts include the title song and its hot guitar solo, the mellow, horn-spiced melody of "What Am I Gonna Do," the surprisingly breezy and lovely "That's My Girl," accented with a flute, the tender blues ballad "Always," and a soul-filled rendition of the Beatles classic, "Oh! Darling."
Still Called The Blues covers all of the bases: there's straight ahead blues guitar riffs, there's good storytelling, and there's soul-drenched vocals. Contemporary blues doesn't get better than that.
Appearing: May 3rd at Buddy Guy's Legends (700 S. Wabash) in Chicago.
Acoustic blues will always be the very essence of the blues continuum, so preserving and promoting the form is essential. Thanks to Music Maker Relief Foundation, a treasure trove of senior acoustic-blues musicians have new avenues for their music. Under the umbrella of preserving Southern culture and American roots music, this public charity supports and expands the professional careers of hundreds of traditional musicians. Boo Hanks is one acoustic musician whose fascinating technique graces many more ears than just the ones in the small North Carolina towns where he previously only played.
Piedmont or East Coast blues is Hanks' specialty, and he plays with the mastery of an 83-year-old man who started playing guitar at 8. The style is named for the Piedmont Plateau region that runs from Virginia to Atlanta, and features the older "frailing" technique that uses the thumb to pick out the bass and the forefinger to pick out the melody on the treble strings. The singular sound that results resembles two guitars playing when in reality, it's just a lone acoustic. For this reason alone, Buffalo Junction (Music Maker) — which will be released on June 19th — should be required listening for blues, folk, and musical history fans alike. But there are other reasons. There's the genial accompaniment of Carolina Chocolate Drops' Don Flemons supplying backup vocals as well as jug, harp, and bones on the 12-track album. The Chocolate Drops are also part of the Music Maker foundation, and Hanks has opened for the popular young acoustic blues/folk group.
Another reason that makes Buffalo Junction such an important offering is that after a life spent working in Virginia's tobacco fields and playing at small Carolinan barn dances and other social gatherings, Hanks shares music and experiences that are slowly fading from history. All of the tunes are traditional country blues, dating back at least seven or eight decades. Yet, Flemons' presence helps it cross generational lines.
The opening song, "Railroad Bill," displays Hanks' dazzling pickin' skill immediately, with his traditional crooning adding even more texture. Most of the tracks reveal the hardscrabble existence of African-American life in the early last century as well as the requisite romantic escapades. A particular highlight is "Move To Outskirts Of Town," where Hanks laments the hovering presence of another man: "I'll tell you one thing baby/we're gonna move away from here/I don't need no ice man/gonna buy myself a Frigidaire/I don't want no Heebie Jebbies always hanging around/it might sound funny baby as funny as funny can be/but if we ever have children? I want them all to look like me." Flemons joins in with jug playing and at the end, and a round of collaborative laughter. The CD mines the pairing of Hanks' expressive country crooning and Flemons innovative musicianship for a singular musical experience.
Curtis Salgado's knockout soul vocals are unparalleled in any genre, and he showcases just how powerful they can be in his latest, appropriately named release, Soul Shot (Alligator). That he chooses a host of performers known for funky, soulful performances to cover — including George Clinton, Bobby Womack, and The O'Jays — is telling and indicative of the heavy soul focus. Socking listeners with a rousing cover of Bobby Womack's "What You Gonna Do?" for the opener, there's no faltering on any of the 11 tracks with the Clinton cover of "Getting' To Know You" filled with hip-shaking, sweat-soaked funk and Salgado's soaring vocals.
— Rosalind Cummings-Yeates
Category: Columns, Monthly, Sweet Home