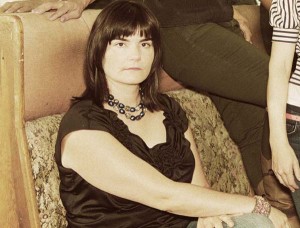 IE: Now that you are a veteran of a supergroup, does that open up doors to a supergroup secret society?
Rebecca Cole: [Laughs.] Yeah! Actually, we get together with Chickenfoot every now and again for some beers. But no, we haven't been indoctrinated yet. Maybe I should be disappointed that we haven't received that invite.
IE: Had you thought about the connotation when you got into it?
RC: We hadn't. It was sort of a surprise — it's still a surprise to see that term associated with something I'm doing. When I think of "supergroup," I think of The Highwaymen or million-selling artists coming together. Or something bloated, like Chickenfoot. I don't think we're either.
IE: What about Superheavy, Mick Jagger's new group?
RC: We should totally be drinking red wine with those guys and flying on their jet. But no, we didn't think about it. I don't know if the term means something different now. We all were in different projects before, and now we have this new project. It's flattering, in the spirit it means people are excited about your work. I hope that's how it's meant. [Laughs.]
IE: How did you even become a band?
RC: There was a film project that Carrie [Brownstein] was working on, and then she enlisted Janet [Weiss] and she enlisted me to do some instrumental songs. The three of us being in the room working together was pretty easy-going. A lot of work came really quickly on these instrumental songs. The director wanted vocals, so we sent a track to Mary [Timony] in D.C. and she sent it back. Listening to it, it was funny: "That sounds like a band." There weren't any blueprints for what we were doing. Mary came out a couple times, and we got together in a practice space. The happy surprise was it was actually that it was something we were excited about.
IE: From a personal standpoint, is this something you were looking for? Or has it interrupted the normal course?
RC: For me, the timing was awesome. I had quit my last band [The Minders] and finished my degree, which had taken years because I was trying to do it between tours and working jobs. So then I had my degree and I got a job, and I was really unhappy. It was paying good money and I had everything that should have made me happy as a "grownup," but I realized — after a lot of soul searching — that the reason was I didn't have people to make music with. It was shocking, because I had it for so many years that I think I took it for granted. So, when we started playing together, I had [already] decided to start making music again.
Wild Flag play Metro on Thursday, April 5th with Hospitality. The band's self-titled Merge debut is out now. Q&A by Steve Forstneger.