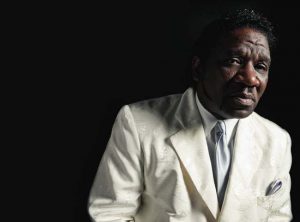 The legacy of Muddy Waters looms over Chicago blues with a vivid, unforgettable presence that serves as the standard for what defines the genre.

Appearing: March 31st at Buddy Guy's Legends with The Chicago Blues Angels and Eddie Taylor Jr.

From his swaggering vocals to the fierce slide-guitar riffs that electrified the blues, there are very few areas of modern blues (or rock) that don't reflect the influence of Waters. Such an impact could prove daunting for the child of a musical icon following his father's musical path, but Mud Morganfield doesn't look at it that way. "I'm honored as a son to be part of my dad's legacy," says Morganfield. "Those are shoes that are too big for me, but there are students and fans who see me and it's as close as they will ever get to him."
With practically the same voice, face, and penchant for songs filled with sexual innuendo, Morganfield brings listeners close indeed to Waters (born McKinley Morganfield). As Waters eldest son, Morganfield feels a keen responsibility to maintain the dignity of the genre as well as carve out his own space. "I'm not trying to follow in my father's footsteps, I'm trying to make a difference in the blues world," he says. "I want to be a part of what my daddy spent his life doing."
His new CD, Son Of The Seventh Son (Severn), illustrates just how serious Morganfield is about being a part of his father's legacy. The 12-track collection showcases traditional Chicago blues with a contemporary twist. Seven tunes are originals written by Morganfield with two requisite Waters added to the mix. His tight band — featuring blues notables Kenny "Beedy Eyes" Smith on drums, Billy Flynn on guitar, and Harmonica Hinds and Bob Corritore sharing harp duty — elevate Morganfield's vocals from the danger of being a soundalike karaoke experience to a polished and updated take on local standards.
Opening with the fun loving "Short Dress Woman," a Waters classic that Morganfield spices up with quicker delivery and a sizzling piano solo by Barrelhouse Chuck, sets the foundation for the rest of the album. The CD's title song offers up a playful name check of his pop's songs over Corritore's mournful harp: "I'm a natural born lover/a real backdoor man/Don't you know this mannish boy/has grown up to be a full grown man." The rest showcases Morganfield's own specific version of Chicago blues and there are several standouts. "Catfishing," a funk-filled party anthem, grabs attentions for several reasons. The double entendres in the lyrics are particularly naughty: "I'm going catfish fishing/I got my pole right here in my hand/I'm going way down to the bottom/like a natural born lover man," and according to Morganfield, the song's smooth rhythm encourages several kinds of dances. "You can step to it, you can juke to it, or just get funky with it," he says. "It's nasty without being too nasty."
"Health" translates the pain and regret of physical deterioration with a melancholy ballad and a soulful delivery that was clearly inspired by real life. "I had a friend of mine, my family knew him for 40 years. He worked for General Motors and kept putting off retirement because they offered him more money. He had a triple bypass, high cholesterol, diabetes, hypertension, and after all that, he had a stroke. We don't take care of ourselves. The message is to enjoy your life while you can. Take care of yourself. Sometimes I don't play that song because people are dancing [during the set] and I hit em with that, they call me a hater," he says.
Born Larry Williams on the West Side to Mildred McGhee and Waters, Morganfield is skilled at dealing with difficult circumstances. His parents were together for the first five or six years of his life, after that his father was an irregular presence while he grew up on tough West Side streets. Despite that, his influence on his son was strong. "I've been in music all of my life," he says. "All of these great artists were coming around: Pinetop [Perkins], Little Walter, [Willie] Big Eyes [Smith] — they were just my father's friends, I didn't know my father had such an impact. They didn't know it would be significant. How could they know they'd be great stars when they were just worried about cutting heads [competing against each other]?"
Morganfield played the drum kits his father bought him; he later learned to play the bass; and he'd sing all through the house. He was called "Lil Muddy" by people who knew his dad when he was growing up, but he didn't consider playing music professionally. He became a truck driver from a love of driving big rigs. The turning point came one day when he and his mother were watching an homage to his father on TV.
"They did a tribute and nobody ever mentioned my mother or me," says Morganfield. "I decided then that they would know about me and my mother all around the world." He slowly built up a local following and, by 2007, he snagged his own set at the Chicago Blues Festival. Today he tours all over the world, bringing every award and accolade home to Ma.
Morganfield embraces the history that his father created and feels comfortable with his position as a son of the blues and blues creator in his own right. "I feel my dad when I perform. I feel him guiding me. He's always with me. He'd be proud and happy about what I'm doing. A lot of people in the blues industry want you to be blind, cripple, and crazy. I don't drink, I don't smoke, I don't do drugs. I'm not any of that. I'm a class act."
— Rosalind Cummings-Yeates
Category: Columns, Monthly, Sweet Home