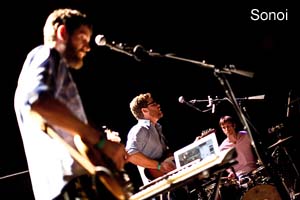 Million Yen engineer/producer Jeff Dean has formed a hardcore "supergroup" with the legendary Vic Bondi (Articles Of Faith), Derek Grant (Alkaline Trio), and Joe Principe (Rise Against). The band is going by the name Dead Ending, and seminal label Alternative Tentacles is releasing a self-titled five-song EP on May 1st. Dean tracked the songs at Million Yen, and then Bill Stevenson (Decendants/All) did the mixing. According to studio owner Andy Gerber, "The sound is massive, hard-hitting, and pissed-off!" . . . Dean also lends his guitar chops and songwriting skills to several local outfits, most notably The Bomb with Jeff Pezzati (Naked Raygun). Dean also recorded a five-track EP for Mike Feerick from Amusment Parks On Fire and Micah Calabrese from Giant Drag, as well as a pair for split singles by Noise By Numbers . . . Gerber recorded a live set by producer J. Robbins (Jawbox); finished a CD with Viceroy; an EP with Steve Knecht; a single for The Maybenauts; and a single for Kevin Flynn & The Avondale Ramblers . . . Pete Carparelli recorded a four-song EP for The Porn Groove, and mixed two sides for The Allegedly Dead . . . Geoff and Matt Sabin mixed a full length for Rescue School.
Tropics Of Holland, the second album from Chicago-based trio Sonoi, will drop worldwide March 13th on vinyl and file through Meno Mosso Records. Tropics draws several scenic routes, according to their PR folks, "From clean, spare Verlaine-like guitar to gently smeared ambient improvisations, moving seamlessly between and around the two." The set was recorded by Benjamin Balcom (Atlas Sound, Calvin Johnson) at MINBAL in Chicago, with mixing, production, and additional recording by long-time collaborator Michael Krassner (Blues Oblique, Boxhead Ensemble). The band will celebrate the release with a performance on March 15th at Hideout with Deep Sleep and Chandeliers.
Fierce Atmospheres entered the final production stages on their new album, to be released in this spring. The band recorded at Region Recording in Lansing, tracking six-songs including a pair of Black Sabbath cuts for a tribute-to-Ozzy CD through Versailles Records in Nashville. The band will also be tracking two-to-three more songs beforehand and is planning a hometown release party before heading to Ohio this summer for the Warriors Of Metal Open Air Festival.
At GRAVITY STUDIOS in Chicago, Lee DeWyze's label, WuLi Records, returned to remix and remaster Lee's first album, So I'm Told, with Doug McBride. DeWyze performs this month at Viper Alley in Lincolnshire for the first anniversary of the north-suburban venue.
At BobDog Stu-dios in Oak Park, Dav Ero continued to work on his upcoming CD, bringing in Trigger Gospel/Cannon-ball/Bunkertown/Hearts-field guitarist Andon Davis on acoustic and electric guitars, Mike Panico on drums, Sandy Lee on vocals, the What's Mark Bishop on harmonica, Scott Daniel on acoustic and electric violins, and BobDog Studios owner/engineer Bill Kavanagh on bass.
Hey Studiophiler: To get your studio or band listed in "Studiophile," just e-mail info on who you're recording or who's recording you to ed [at] illinoisentertainer.com, subject Studiophile, or fax (773) 751-5051. We reserve the right to edit submissions for space. Deadline for April 2012 issue is March 15th. need your news, you need us to print it.
— David Gedge
Category: Columns, Monthly, Studiophile