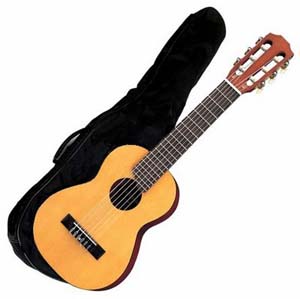 Rumors that San Diego-based Taylor Guitars was gonna dip its big toe in the deep end of the amp business had us excited us to no end. Unfortunately, Taylor has made its ES Guitar Amplifier part of their limited-edition Builder's Reserve series as a guitar/amp package (limited to 30 amps) called the Expression System. The news is a little disappointing, because it limits availability of a Taylor amp to the little guys. Hopefully the success of this amp this will encourage Bob Taylor and his comrades to make a guitar amplifier for the rest of us.
Designed by Taylor's product development team over a period of several years, the ES marks a first for the company, matching Taylor's ES series guitar to an amplifier of the same name.
The debutant is a 40-watt bi-amped speaker arrangement that offers an 8-inch custom Eminence poly-cone woofer for dynamic low end and a 1-inch textile dome tweeter to offer the exceptional highs. The bi-amp design enables the amp to reproduce the full, natural sounding bass of an acoustic guitar while maintaining crystal-clear highs. Working in conjunction with the volume, bass, and treble control knobs on the Expression System-equipped Taylor guitar, the amp features a simple volume control, reflecting Taylor's philosophy behind the ES: "Your guitar, only louder."
As mentioned earlier, this Builder's Reserve edition of ES amps is designed to rival a beautifully crafted piece of art. Each is housed in a flamed-maple cabinet, with inset side panels of flamed-mahogany laminate that feature an elegant Pasadena Torch inlay crafted from maple and bubinga wood. The result is a extremely limited-edition collector's piece.
As part of the special Builder's Reserve set, the amp is accompanied by a matching Grand Symphony guitar (GSce) with a flamed-mahogany back and sides, capped with European spruce. Designed to showcase the impressive flamed mahogany, the guitar features a matching maple armrest and binding, fretboard, and peghead inlay of Taylor's Pasadena Torch. The GSce also comes in a a cutaway body with Expression System acoustic electronics. Expect pricing to be in the upper bracket with only 30 amps in circulation. Details can be found at taylorguitars.com.
Yamaha
GL1 Guitalele
Available for the first time in the U.S,. Yamaha's Guitalele is a miniature nylon guitar that looks and sounds like a ukulele, but features six strings and is set like a standard guitar tuned to A/D/G/C/E/A.
Chord fingering is the same for any normal axe, but now you lazy guitar-types can pretend you're playing uke without the fuss of learning to play a uke. Yikes.
"The GL1 plays well and gives guitarists a fun alternative to their usual nylon-string guitar," says Dennis Webster, marketing manager, for Yamaha Guitars. The GL1 retails for $140 and details can be found at yamaha.com.
Seymour Duncan
Fully Loaded Pickguards
Seymour Duncan is letting Fender Strat players hot-rod their tone and upgrade their electronics in minutes with a new series of Fully Loaded Pickguards. The Triple Rails Pickguard is tuned for those who play rock or metal using the high energy Hot Rails for Strat pickups, while the Classic Pickguard features a Custom Stack pickguard in the bridge, a Classic Stack in the middle and a Vintage Hot in the neck, giving you the sound of a traditional Strat aimed at classic rockers. The Bring Your Own Pickups Pickguard allows you to choose your pickup combination so that you can create the tone you desire. Install any combination of pickups in minutes thanks to the Liberator, which is installed in the Triple Rails, Classic, and Bring Your Own Pickups Pickguard and will allow you to change your hardware in minutes using only a screwdriver. The Antiquity Pickguard features an artfully aged look with true vintage tone and each is personally signed by Seymour W. Duncan. MSRP starts at $199 for your new hot-rod. More details can be found at seymourduncan.com.
News & Notes
Longtime friends of IE, Tobias Music in Downers Grove is showing off their all-new, expanded showroom featuring even more guitars with a "Happy Hour with Martin Guitars" on Friday, March 1st, and a second meet-and-greet and one-day sale with Taylor Guitars on Friday, March 30th. For details, visit tobiasmusic.com or call (630) 960-2455.
— David Gedge