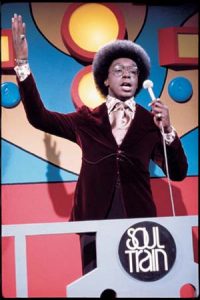 In time for Black History Month, Sony's reissue imprint Legacy released Golden Gate Groove: The Sound Of Philadelphia Live In San Francisco, a sweetly nostalgic collection of O'Jays, Harold Melvin, and Billy Paul performances from 1973. Despite the bi-coastal anchors in the production, the show's MC was Don Cornelius, who, at one point in the recording, ribs Kenny Gamble on stage for taking so long to produce the theme music for his nascent TV series, "Soul Train." Of course, the disc's timing is bittersweet for Cornelius, 75, who reportedly committed suicide in February. A South Sider, war veteran, and former policeman, he went down as one of the most important people in the history of black music and television. With his Barry White voice and collection of Bob Barker microphones, Cornelius set "Soul Train" on a path that would make it the longest-running, first-run nationally syndicated show of all time and became the principle avenue to cross-nationally market urban culture. If only he could have found peace, love, and soul for himself.
GROHL LIKES IT BOTH WAYS
Adele's chart-dominance in 2011 precluded her six-Grammy haul last month, and this year's awards were consolidated among a handful of artists: Chicagoan Kanye West took four, Foo Fighters nabbed five, Skrillex bass-dropped a treble, and — talk about inevitability — Alison Krauss became the most-awarded living artist with her 28th. (She surpassed Quincy Jones and is three-short of the all-time mark set by the late Hungarian conductor, Georg Solti.)
The show needed a spark, and Foo Fighters frontman Dave Grohl seemed to take a swipe at electronic-based artists/producers (like Skrillex) in an acceptance speech: "It's not about being perfect, it's not about sounding absolutely correct, it's not about what goes on in a computer. It's about what goes on in here [your heart] and what goes on in here [your head]." Rockist traditionalists roared their approval, and were so elated someone finally said it that they missed Grohl onstage later with with electro heavyweights Deadmau5 and David Guetta. The singer later clarified his remarks, arguing his comments were more about the use of technology to wash out human imperfections and mistakes, and "I don't know how to do what Skrillex does (though I fucking love it), but I do know that the reason he is so loved is because he sounds like Skrillex, and that's badass. We have a different process and a different set of tools, but the 'craft' is equally as important, I'm sure. I mean, if it were that easy, anyone could do it, right?" There. Someone finally said it.
THE NAME GAME
Akoo, akoo: bo-koo. Banana-fanna bo-koo. Fee-fie bo-koo. Akoo! The World. Comiskey Park. Sears Tower. The Sting. O.K., maybe the Chicago Fire have successfully repelled the shadow of a predecessor. But the owners of Rosemont Theatre and Pancho's (not to mention recent awning renovators at Memories (now Stage Bar) and McDunnas (now Ace Bar)) will vie to imprint new names upon a local public that just doesn't have time to remember anything new. So, henceforth, Rosemont Theatre will be known as Akoo (bless you!), to highlight its partnership with Akoo TV, the country's largest out-of-home television network (meaning they broadcast in health clubs, stores, etc.). The change of Logan Square's Pancho's to Township will probably feel fundamental to torta-munching regulars of the venue/restaurant. Chicago also receives yet another music hall, New York-based City Winery. Coming to the West Loop in July, the 300-seat venue/wine bar has lured program director Colleen Miller away from Old Town School Of Folk Music, the Chicago Tribune reports. It's expected to battle Space, Lincoln Hall, and Park West for bookings.
ALBUM WE WON'T BE REVIEWING
The Shins: Port Of Morrow (Columbia)
As if the world needed more proof of The Shins' inherent blandness, frontman James Mercer plugs Laura Veirs' new album like this: "A brilliant record that anyone who loves good music will appreciate." Yah.
— Steve Forstneger