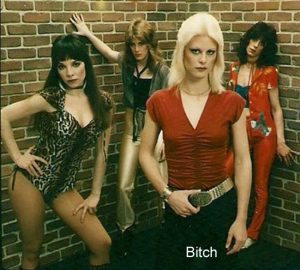 If the Thirsty Whale could do it, why not? Durty Nellie's in Palatine has slotted February 26th to reanimate a potential competitor: Haymakers. The Prospect Heights club, shuttered in 1984, will return for one night before rushing home in glass slippers. Coming from as far as California and Florida, members of some of the venue's stalwart acts (Bitch, Dreamer, Hounds, Madfox, One Arm Bandit, Pezband Allstars, and Tantrum) will suit up once again and rock like it's the Reagan era. Former IE Editor Guy Arnston co-masterminded the event with Kathy Powers-Hall, wife of former owner Chuck Hall. Far from a hangout for bygone local musicians, Haymakers also hosted Cheap Trick, Survivor, The Bangles, Shoes, The Kind, Sly Stone, Queensryche, and Twisted Sister. Visit the Facebook page for more info.
WWW.SMACKDOWN.COM
The opposition cheered as caustic, conservative attacks sullied the GOP's own primary debates, but then the glove-dropping contagion afflicted the nominally liberal world of musicians. Veteran local rapper/actor (and White House honoree) Common kicked off, telling WGCI that the "soft" MCs attacked in his new track, "Sweet," included sensitive singer/rapper Drake. The Canadian answered back by calling Common out on the Rick Ross side "Stay Schemin'" – despite earlier pledging, "Diss me and you'll never hear a reply for it." Not missing a beat, Common remixed the same track with his retort, saying Drake can't get girls, um, excited, because he's Canada Dry – and then encouraged people to print Canada Dry shirts. The weird thing is it's reportedly a beef over the affections of tennis star Serena Williams, who could probably kick both their asses. (Fakeshoredrive posted this news about Drake after we went to press.)
Not just a game for rappers, before the Golden Globes, Elton John told Carson Daly that Madonna had "no fucking chance" of winning the Best Original Song category, for which he was also nominated. (Nice talk from the guy with the kids' film.) Madonna did win, and afterwards John's husband David Furnish wrote on Facebook, "Madonna. Best song???? Fuck off!!! [Her win] truly shows how these awards have nothing to do with merit!" And the beef goes on.
CURSES!
January was a mixed month for the fabled IE curse. On the 2nd, Chicago Blackhawks winger Daniel Carcillo – profiled in "Media" for his WGN music broadcasts – drove an Edmonton Oilers defenseman into the endboards, resulting in injuries to both players, a five-minute major penalty during which the Oilers scored twice en route to a win, and eventually a seven-game suspension for Carcillo from the NHL. Carcillo still hasn't finished his sentence, because on the 13th the team announced that the forward needed reconstructive knee surgery and would miss the rest of the season – a contract year. (Adding to his woes, the 'Hawks' scrappy minor-league replacement scored five times in his first eight games.)
For every yin there's a yang, however. Not long after popping them on our February 2001 cover, earthquaking Texan post-punks At The Drive-In broke up. But lo and behold the band tweeted their return – certainly a boon to the upcoming album from one of the splinter groups, The Mars Volta. No specifics had been announced by press time, but IE scribe Curt Baran – who wrote the cover piece – has already filed some anxious requests.
PEEL SESSIONS
The bane of book covers, guitar cases, and rear bumpers everywhere, stickers are the tattoos no one's afraid to get. They tell people exactly who you are, even if you collage a million of them together with zero regard for the Kyle Orton cut-out being buried beneath. From now – well, late January, really – until March 3rd, the Maxwell Colette Gallery (908 N. Ashland) will host DB Burkeman's "Stuck Up: A Selected History Of Alternative And Popular Culture Told Through Stickers" exhibit, an almost intimidating collection of gummy paper spanning decades and the globe. Burkeman, a DJ and drum and bass pioneer (he founded the Breakbeat Science label), presented some of his gallery as a book, Stickers: From Punk Rock To Contemporary Art, in 2010. The Maxwell Collette Gallery is free and open to the public.
— Steve Forstneger