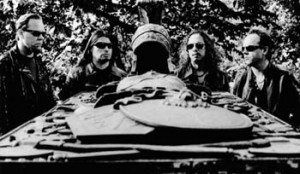 In mid December, Metallica – drunk on the euphoria building for their 30th-anniversary celebrations, or scampering to mitigate the damage caused by Lulu – made the unusual decision to sell some demos on iTunes.
As the Garage Days releases have shown, the band aren't afraid to show warts, but the decision to release (which also arrived on CD in January) the Beyond Magnetic EP was a curious one. First, the four leftovers – from 2008's Death Magnetic – were originally given to fanclub members, which was on par with Metallica's relationship with its official supporters. Each was then played on separate nights of the San Francisco-rooted anniversary showcase – an event populated entirely by fanclub members.
Delivering them to general music consumers, however, is a change in course. Over the years, Metallica have jealously guarded sketches and outtakes of songs that were eventually intended for release (note their conspicuous absence from the world of expanded reissues and boxsets), a tactic in keeping with their highly manicured and rigid image maintenance from no videos, to the iconic one, to the "Black Album," explosion, Load-era. You could argue that it all fell apart with the Some Kind Of Monster debacle, and they'd prefer you averted your eyes from their personal failures to their musical ones.
*The announcement of guitarist Tony Iommi's battle with lymphoma strikes a number of chords – mostly saddening, given the proximity to Ronnie James Dio's death from stomach cancer. On business terms, it's a blow to the planned Black Sabbath reunion, which was fought for tooth-and-nail by Sharon Osbourne as she struggles to boost Ozzy's image post-Heaven And Hell's success. It also renders Iommi's own, recently published autobiography, Iron Man (Da Capo), pretty incomplete. Though not quite symbolic of Sabbath's vengeful outcast, the phrase "iron man" typically denotes someone with superhuman endurance. Struggling to contain several dozen (not always chronological, sometimes repetitive) "chapters," each about four to five pages long, Iommi's memoir instead recalls someone who runs distance events by sprinting and stopping every couple-hundred feet. Short on narrative but long on uncanny detail, Iron Man (subtitled: My Journey Through Heaven And Hell With Black Sabbath) will satisfy Sab fans looking for a coffeetable book, but frustrate people seeking a more thoughtful, historical counterpoint to the frenzied I Am Ozzy. Iommi has stories to spare – he's dealt with abusive parents, disfigurement, marital strife, severe addiction, and, of course, Mr. Osbourne – but his dry, anecdotal approach is better suited to snippets than 416 pages.
*No sooner did we coax Trevor de Brauw into submitting for "Caught In A Mosh"'s collection of best-of-2011 top-fives, do Pelican announce a new EP and tour. The jaunt will mostly canvas Europe, but Ataraxia/Taraxis (Southern Lord, April 10th) breaks a two-year recording gap. The four-song set was also tracked in a quartet of different studios, and they stuck to Chicago-band protocol by doing some of the work with Sanford Parker.
*Supergroups are de rigeur in our incestuous, local circles, and Beak are no exception. Consisting of former Timeout Drawer members Chris Eichenseer and Jason Goldberg as well as Engine Studios co-founder Andy Bosnak and frontman Jon Slusher (who's also sat in Timeout), the quartet had no trouble deciding where to record their debut. Though Beak demur when being categorized as metal, it's difficult to fathom lumping Eyrie (Someoddpilot, April 3rd) anywhere else. True, elements of post rock, hardcore, and prog intermingle (and hello Micromoog bass!), but the opening minute of "Angry Mother Of Bones" pushes a pretty fierce interpretation of black metal. They open for Anvil on the 23rd at Reggies.
*On the 28th, Corrosion Of Conformity's Animosity-era lineup drops a self-titled album via Candlelight. For those of us who met C.O.C. in Pepper Keenan's Sabbath-drenched '90s heyday and later learned they were a hardcore punk band when they started, 1985's Animosity was a girder-solid melding of the two, and its masterful balance has been faithfully replicated on the new album. They hit Double Door on March 7th with Torche, Valient Thorr, and A Storm Of Light.
*As we lead up to the Republican nomination, all this chatter about when life actually begins and the dominos of court cases that led to Roe v Wade got us thinking: when's Dying Fetus playing again? Not for nearly two months: March 26th at Mojoes. The Marlboro-bred death titans proclaim a "return to roots" for the upcoming Reign Supreme, which Relapse hasn't yet handed a release date. In a sign of the impending apocalypse, their tour kicks off at the South By Southwest Music Conference in Austin.
Trevor Fisher is taking some time off.
— Steve Forstneger
Category: Caught In A Mosh, Columns, Monthly