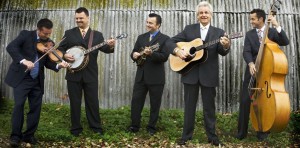 CBGB in New York is a tourist attraction now. Never mind that it became a punk club. Chicago Bluegrass & Blues Festival might not be a haven for fundamentalists and zealots, but the first night, this Saturday, makes a case for the styles' futures.
With a lineup featuring The Del McCoury Band with David Grisman, The Bluegrass Ball featuring The Travelin' McCourys, Bill Nershi of String Cheese Incident with Jeff Austin of Yonder Mountain String Band, Joe Purdy, The Giving Tree Band, Henhouse Prowlers, and Majors Junction, you're out of your element if you expect something akin to Joe's On Weed or the North Halsted blues venues. The Auditorium Theatre's pristine acoustics might be an odd match for music that rose up from the dirt, but it's all the better to hear a madcap innovator like Grisman plying his trade.
Next Saturday, the 28th, the party moves to Congress Theatre with a 5 p.m. start. Drive-By Truckers headline, with Dawes and Joe Pug in tow.
— Steve Forstneger
Category: Featured, Monthly, Stage Buzz, Weekly