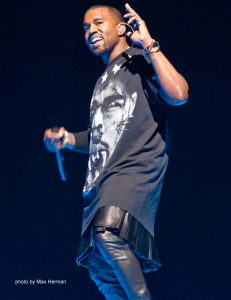 Let's get this out of the way upfront. Yes, Kanye West and Jay-Z played "N***** In Paris" eight times this past Wednesday at the United Center, the first of the duo's two-night run at the venue. Yes, it was a bit like one of those "Family Guy" gags that go on so long it stops being funny, only to have that become the joke. Yes, it was an exuberant and excessive move that only larger-than-life superstars like Ye and Jay could get away with. And yes, in fact, that shit was crazy.
While an endless encore of "Paris" may have been the feat that captured Twitter feeds as the night ended, the nearly three-hour shared set between two of hip-hop's biggest names boasted far more than that epic closing note. In town behind the pair's collaborative full length, Watch The Throne (Roc Nation), Mr. West and Mr. Carter moved through a set that featured practically every hit in both artists' catalogs, both individually and collaboratively.
Performing separately, there were moments where the audience almost forgot about the shared nature of the bill, instead becoming transfixed by the presence and impact each performer's strongest fare. For West, such moments included a ferocious performance of "All Of The Lights," as well as a vulnerable and romantic rendition of "Runaway." For Jay, it was the classic "Izzo (H.O.V.A.)," notable for being the first song West ever produced for The Blueprint, as well as "Empire State Of Mind," despite serving as an anthem to New York performed here in Chicago. Together, Jay and Ye's presence was often electric and intense, as was the case on the hard and heavy "Monster," off West's late 2010 effort, My Beautiful Dark Twisted Fantasy. Similarly aggressive were many Throne cuts, including "Who Gon Stop Me" and "Welcome To The Jungle." All of which made it that much affecting when the duo dropped their guards for the back-to-back Throne ballads "Made In America" and "New Day," the latter of which seemed to especially impact the two otherwise hardened artists.
Such moments were the exceptions to the evening, however. If anything, Wednesday's set was a celebratory affair between two giants with an expansive history of quality collaborations. It was the rare kind of night where the performers onstage were having as much fun, if not more, than the audience.
— Jaime de'Medici
Category: Featured, Live Reviews, Weekly