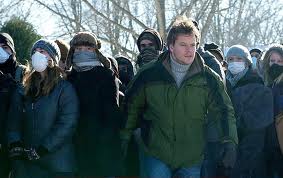 So if you believe those wacky Mayans (and really, when have they ever lied to us?), there's less than a year left on the lease here on the big blue marble. The countdown to oblivion is coming to town, so get dressed.
Really, the only question is how the lights are gonna go off. Don't worry, Hollywood is always at the ready to provide a scenario or two. More often than not, those scenarios include lots of boom and bang and buildings toppling to the ground. The infinitely more frightening plot line involves threats you can't see.
Director Steven Soderbergh returns to the multiple A-list cast and global-reach terrain (that he's mined in films like Traffic) for the worldwide pandemic thriller Contagion. Unlike Traffic, however, Contagion never quite hits home, due to the fact that too many characters are shoved into too little movie.
First off, there is the main cast, which features Matt Damon as a workaday Minneapolis guy whose wife (Gwyneth Paltrow) returns from Hong Kong with a nasty case of the coughs. Within days, both she and their son are riding slabs in the morgue, while Damon and their daughter remain strangely immune.
Then there's Laurence Fishburne and Kate Winslet as doctors for the Center For Disease Control, and Marion Cotillard as a World Health Organization doctor who traces the source of the plague back to Paltrow.
Also along for the ride is Jude Law, as a blogger who doesn't believe the government's take on the matter, and ends up doing more harm than good by inciting his readers into panic. There are also appearances by Elliott Gould, Bryan Cranston, John Hawkes, and Demetri Martin to name but a few.
Soderbergh does a fine job establishing a palpable sense of dread. Lingering shots of hands on door handles, drinking glasses left on planes, and everyday handshakes are enough to make you never want to leave the house unless encased in a full hazmat suit. And to hammer the point home, each change of scenery comes complete with a census figure ripe for infection – Tokyo: Population 36.6 million, San Francisco: Population 3.5 million, and so on. To his credit, Soderbergh avoids the disaster-movie histrionics to which most other films of this nature would stoop. It's a quiet, meditative look at a very realistic scenario.
The problem is that with so many characters, we never stay with any of them long enough to care very much. We never find out why certain people are immune, and some characters are introduced early on, only to reappear much later as major plot points.
The Blu-ray is a bit light on features, with only three segments on viruses and the nature of worldwide infections. The disc also contains an UltraViolet Digital Copy of the film, which allows folks to download and instantly stream the movie via WiFi to compatible computers.
Portlandia: Season One
IFC
Imagine, if you would, a "Saturday Night Live" spinoff for hipsters, and you have "Portlandia." Running on IFC, the series is the brainchild of "SNL" regular Fred Armisen and indie-music goddess Carrie Brownstein (Sleater-Kinney, Wild Flag), who shows that not only is she a force to be reckoned with as a guitarist, she can also be damn funny.
Like any sketch-comedy offering, the results are hit or miss. But "Portlandia"'s take on life among the City Of Roses' hipper-than-thou denizens hits the mark more often than not.
Plus, there's a non-stop parade of guests to solidify its indie cred, such as Steve Buscemi, Aubrey Plaza, Gus Van Sant, and Kyle MacLachlan, whose performance as the mayor of Portland is worth the price of admission alone.
The six-episode, Season One set features a speech by Armisen to the graduates of the Oregon Episcopal School, deleted scenes, extended scenes, and commentary on every episode by Armisen, Brownstein, and director Jonathan Krisel.
— Timothy Hiatt
Category: Columns, Digital Divide, Monthly