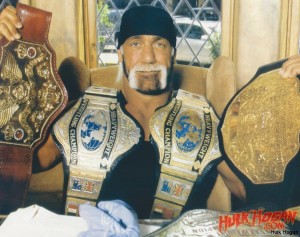 Like Hulk Hogan, I am a real American. That means, first and foremost, I fight for the rights of every man. It also means I use geographically specific release dates for my year-ending top five. Hence Ghost's Opus Eponymous inclusion even though everyone who is anyone heard the record in late 2010, given its European release was October of that year. Not being just anyone, though, I didn't discover the album until its January 2011 North American issuance, which is how I justify its selection. That and the fact it's some of the catchiest damn Satan worship ever.
As for the rest of my picks? Mastodon did it again with The Hunter. Superchrist is one of the underground's finest, and Burn Again captures the Chicago group at its best . . . live. Weedeater gets better and better every album, and Acid Witch is as fun as it is heavy. And as heavy as it is stoned.
That said, here's 2011's finest heavy albums as chosen by people whose opinions you may or may not respect.
Trevor Fisher, "Caught In A Mosh"
1. Mastodon The Hunter (Reprise)
2. Ghost Opus Eponymous (Metal Blade)
3. Superchrist Burn Again (self-released)
4. Weedeater Jason . . . The Dragon (Southern Lord)
5. Acid Witch Stoned (Hells Headbangers)
ALSO VERY GOOD:
Opeth Heritage (Roadrunner)
Anthrax Worship Music (Megaforce)
High Sprits Another Night (self-released)
American Heritage Sedentary (Translation Loss)
Midnight Satanic Royalty (Hells Headbangers)
Steve Forstneger, Illinois Entertainer
1. KEN Mode Venerable (Profound Lore)
2. American Heritage Sedentary (Translation Loss)
3. Yob Atma (Profound Lore)
4. Wolves In The Throne Room Celestial Lineage (Southern Lord)
5. Mastodon The Hunter (Reprise)
Chris Lotesto, Ion Vein
1. Anthrax Worship Music (Megaforce)
2. Mastodon The Hunter (Reprise)
3. Symphony X Iconoclast (Nuclear Blast)
4. Machine Head Unto The Locust (Roadrunner)
5. Novembers Doom Aphotic (The End)
Jeff Wilson, Wolvhammer
1. The Atlas Moth An Ache For The Distance (Profound Lore)
2. Mournful Congregation Book Of Kings (20 Buck Spin)
3. 40 Watt Sun The Inside Room (Metal Blade)
4. Leviathan True Traitor True Whore (Profound Lore)
5. Loss Despond (Profound Lore)
Neil Wonnell, Neil Wonnell's Metalmouth
1. Diamond Plate Generation Why? (Earache)
2. Saxon Call To Arms (UDR)
3. Smash Potater Zom-Beez demo (self-released)
4. Evile Five Serpent's Teeth (Earache)
5. Degradation Juggernaut (self-released)
Brian Elza, Czar
Trap Them Darker Handcraft (Prosthetic)
Disma Towards The Megalith (Profound Lore)
Wolves Like Us Late Love (Prosthetic)
Dark Castle Surrender To All Life Beyond Form (Profound Lore)
Weekend Nachos Worthless (Relapse)
Igz Kincaid, Hessler
1. Skull Fist Head Of The Pack (NoiseArt)
2. Iron Maiden From Fear To Eternity: The Best Of 1990 – 2010 (EMI)
3. U.D.O. Rev-Raptor (AFM)
4. Firewölfe Firewölfe (Rubicon)
5. Anthrax Worship Music (Megaforce)
Rodney Pawlak, Chicago Metal Factory
1. Macabre Grim Scary Tales (Willowtip)
2. Cianide Gods Of Death (Hells Headbangers)
3. Novembers Doom Aphotic (The End)
4. Bloodiest Descent (Relapse)
5. The Atlas Moth An Ache For The Distance (Profound Lore)
Jon Necromancer, Bones
1. Autopsy Macabre Eternal (Peaceville)
2. High Sprits Another Night (self-released)
3. Necros Christos Doom Of The Occult (Red General)
4. Cianide Gods Of Death (Hells Headbangers)
5. Wolvhammer Obsidian Plains (Profound Lore)
Chris Avgerin, Heaving Mass
1. American Heritage Sedentary (Translation Loss)
2. KEN Mode Venerable (Profound Lore)
3. Maveth Breath Of An Abomination (Nuclear Winter)
4. Mastodon The Hunter (Reprise)
5. The Swan King Eyes Like Knives (Seventh Rule)
Trevor de Brauw, Pelican
1. Young Widows In And Out of Youth And Lightness (Temporary Residence)
2. Tombs Path Of Totality (Relapse)
3. KEN Mode Venerable (Profound Lore)
4. Cave In White Silence (Hydra Head)
5. Craft Void (Southern Lord)
Category: Caught In A Mosh, Columns, Monthly