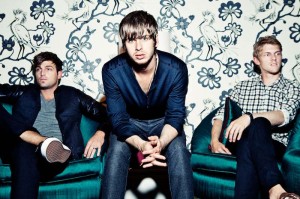 It might not go down as the most unforgettable song of the year. But Mark Foster's #1 smash with his punky fizz-pop trio Foster The People, "Pumped Up Kicks," certainly provided the soundtrack to the summer of 2011, thanks to its infectious blend of handclap percussion, bubbly bass, vocodered verses, and a sugary – but weirdly homicidal – chorus of "All the other kids with the pumped-up kicks/ You better run, better run/Outrun my gun." On the surface its sentiment is so Columbine-creepy that the words "gun" and "bullet" are usually bleeped when its concert-taped video clip airs.
But listen a little closer, "Kicks"'s composer invites, and you'll see his true intention – a Raskolnikov-pensive rumination on the possibility of offing every last kid at school who's tormented you. His protagonist, Foster explains, "doesn't actually do it – it's really more about the psychology of what makes him tick, and him playing with the idea of doing something like that. I really wanted to just paint his world, his home life, his emotions, the conversation that's going on in his head. That's more interesting to me than telling a story about someone killing somebody – like, What is driving this person to think this way?"
Foster The People's whirlwind year led up to a kinetic performance of their smash on the Ben Stiller-hosted episode of "Saturday Night Live" this October, plus an even more hyper run through another track from their recent Torches (Columbia) debut disc – the soulful keyboard stomper "Houdini" – in which they were joined onstage by the wailing sax of Kenny G. Currently, Foster and his bandmates – drummer Mark Pontius and bassist Cubbie Fink – are finishing up a fall/winter tour of Europe, where their thinking man's alt-rock has caught on like wildfire.
Is it possible to be a seriously literate musician in this shallow, social-networking era? Foster thinks so. He's a huge fan of Oscar Wilde and C.S. Lewis, and seedier American authors like John Fante and Charles Bukowski. Ayn Rand's Objectivism theories have also affected him. "And I just read this great sci-fi series by the late Philip Jose Farmer, the 'Riverworld' chronicles, a series of books that are just brilliant," the singer/keyboardist enthuses. "It takes place in the afterlife, and everybody wakes up along this 10-million-mile-long river, and all their lives and beliefs were smashed, and there's no heaven and no hell. And everybody who's ever lived in civilization is there, including neanderthals, and Cyrano De Bergerac, Mark Twain, and Odysseus are main characters. And they're all basically trying to get to the head of the river, to figure out where it starts and who's running the show."
Is there an FTP track in there somewhere? Probably so. Foster – whose voice often slips into an old-school-R&B falsetto in song – has plenty of clever tricks up his sleeve. In fact, he says, he was so soulful that he was actually invited to showcase for Dr. Dre himself, who was interested in signing the kid, pre FTP. Dre's company envisioned a smooth, Raphael Saadiq-assisted solo set, but Foster said No. "I wanted to make the type of music that I'm making now," he asserts. "But I had this other batch of songs that was just vocal and piano, more Elton John and Billy Joel-type stuff. More like classic songwriting, and that's what they wanted – they wanted to make a classic-soul record with me."
But said solo demos do exist, Foster clarifies. And maybe one day, he'll release them. "Because that's a side of me that I love, and that's a side that I want to start working in on Foster The People's second record," he says. The group already tracked one tune in that vein called "Ruby," and it was originally meant to be included on Torches. "And I think we're gonna start playing the song on this tour, actually – it's a piano ballad. But it's a big side of me that nobody really knows about yet."
Where did it all begin for Foster? Oddly enough, his backstory is even quirkier than his success with "Pumped Up Kicks." By the time he'd graduated from high school in Cleveland, he'd parlayed his love of The Beach Boys into several short-lived bands. His father's graduation gift proved crucial: knowing his son's diehard love of music, he urged him to relocate to Hollywood for a year or so, just to test his songwriting chops. He knew the Midwest simply couldn't contain him anymore.
But at the tender age of 18, Foster was unprepared for the Bukowski-grim side of Los Angeles. He lived at a pimp-and-gangster-frequented flophouse, subsisted on one 7-Eleven hot dog per day, and worked more dead-end jobs than he can remember, just to survive. Still, he managed to teach himself keyboards, then production skills, and eventually saved enough money for a PC, Cubase software, and a MIDI controller. Four years later, he wound up right back where he started, essentially – sick of showbiz and unsure which direction to pursue. He needed a guideline, he decided, other musicians to help shape and evolve his vision – enter Fink and Pontius in October 2009, and soon FTP had played their first show in Santa Monica to a crowd of 30 or so friends. By the close of their residency at L.A.'s Echo club, hundreds of fans were lining up every night to catch one of the city's biggest new buzz bands. Foster The People had arrived.
Meanwhile, Foster – now in his mid-20s – had graduated to an eye-opening, craft-enhancing day job: writing advertising jingles for a company called Mophonics. In his spare time, he threw "Pumped Up Kicks" together and put it up on the FTP website, accidentally setting the blogosphere alight with 1.4 million streams, which quickly led to a contract (and an introductory EP) with Columbia/Star Time International. "A friend of mine introduced me to [Mophonics] a few years back, and I started doing spec work for them," the auteur recalls. "I already had a home studio, so then I just kind of learned the ropes. And then maybe a year and a half later, they brought me on full-time and made me an in-house composer."
Why does Foster think he was selected? He thinks about it for a minute. "Well, I think melodies are my strength," says the unabashed pop lover. "And coming from the background of a songwriter, I know how to build and deliver a chorus, whether it's instrumental or whatever. I guess I just have a good handle on dynamics, which is kind of what all commercials are about. So it was very natural for me. And I write in a lot of different styles of music, which is also an asset for composing, because you get jobs calling for hip-hop or bossa nova, rock, emo, or even Danny Elfman-type stuff. So you kind of have to be able to do all of it."
His first assignment, in fact, really put Foster's abilities to the test. To date, it was his most challenging work, he admits – a car commercial that required a synthesizer simplification of a complex Billie Holiday standard. "It was insane, because I don't really know music theory," he remembers. "So I was searching for the sheet music, because I play by ear and I could not figure out what the progression was, because it was pretty difficult jazz with a lot of different moving parts. They wanted me to do an electronic cover of the song, and I ended up getting there and making it my own, and it ended up being really cool. But that was definitely one of my toughest jobs, and it was my first week of work!"
Another head-scratcher: Getting hired by a Japanese boy band called SMAP for a multi-genre overhaul. "We did a series of things for them where we took this SMAP song that we had to remake in different styles," Foster sighs, thinking back on the surreal situation. "We made a country version, a ranchero version, a classical version. We made all these different versions and had all these different session players come in. So there I was, recording this ranchero band that had won a Grammy, complete with trumpets and guitarrón and traditional Hispanic ranchero singers, but singing this Japanese pop song. It was, you might say, pretty epic!"
— Tom Lanham
For the full feature, click the December issue's cover image, or grab a copy of Illinois Entertainer — free throughout Chicagoland.