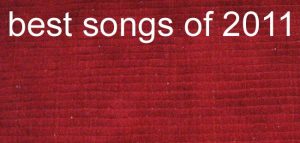 Is that a giant list of songs, or are we just happy to see ya? For all the discussion surrounding the deaths of various recording styles and formats, 2011 was a fantastic year for songs. IE found very little overlap when our writers submitted their votes, which is astounding. If you can find 10 new singles you're ecstatic about, and none of those would land on a peer's top 50? You bemoan the lack of consensus – we say, bring on more salad bar!
Too many listeners take a philistine attitude to year-end lists: the Spin and Rolling Stone comment boards overflow with readers disappointed not to see their own delicately chosen tastes reflected back at them. Here's an idea: treat them as recommendations. Almost all of IE's top songs can be streamed, YouTube'd, caught on Soundcloud, Spotify, or legally and freely downloaded as MP3s. And if you hate every single one, exult in the knowledge that you're an individual!
In alphabetical order:
Adele "Rolling In The Deep"
Akron/Family "Island"
The Antlers "I Don't Want Love"
The Bees "I Really Need Love"
The Belle Brigade "Losers"
Big K.R.I.T. ft. David Banner "Sookie Now"
James Blake "The Wilhelm Scream"
Bon Iver "Holocene"
Boxer Rebellion "No Harm"


The Boxer Rebellion from Black Cab Sessions on Vimeo.
Jeff Bridges "Falling Short"
Buffalo Tom "Down"
Hayes Carll "KMAG YOYO"
Chairlift "Met Before"
Class Actress "Keep You"
Cornershop "Double Decker Eyelashes"
Cut Copy "Need You Now"

Danger Mouse & Daniel Lippi ft. Jack White "Two Against One"
Lana Del Rey "Blue Jeans"
Dev "Bass Down Low (Proper Villains)"
Thomas Dolby "Nothing New Under The Sun"
Drake "Marvins Room"
The-Dream "Body Work"
Dum Dum Girls "There Is A Light"
Dum Dum Girls – "There Is A Light That Never Goes Out" (The Smiths) by AwkwardSound
Elbow "Neat Little Rows"
*The Electric ft. Pugz Atomz "Toot Toot"
Foo Fighters "Walk"
Foster The People "Helena Beat"
Fountains Of Wayne "Action Hero"
*Ezra Furman & The Harpoons "I Killed Myself But I Didn't Die"
Gotye ft. Kimbra "Somebody That I Used To Know"
Cee-Lo Green "You're So Square"
Grouplove "Colours"
Lisa Hannigan ft. Ray Lamontagne "O Sleep"
Hey Sholay "Dreamboat"
Incubus "Adolescents"
Iron & Wine "Walking Far From Home"
Mason Jennings "Bitter Heart"
KEN Mode "Obeying The Iron Will"

Wiz Khalifa "On My Level"
*Kid Sister ft. Riff Raff "Hide & Seek"
Takahiro Kido "Oranges & Lemons"
King Creosote "And The Racket They Made"
Kendrick Lamar "The Spiteful Chant"
*Lissie "Pursuit Of Happiness"

LMFAO "One Day"
Low "Try To Sleep"
M83 "Midnight City"
Major Lazer "Original Don"
Mastodon "All The Heavy Lifting"
Nicki Minaj "Super Bass"
Meshell Ndegeocello "Weather"
Nekromantheon "Divinity Of Death"
Notorious B.I.G. "Gimme The Loot (Superginger remix)"
*Russian Circles "Mladek"
St. Vincent "Kerosene"

*Scattered Trees "A Conversation About Death On New Years Eve"
Sebastian "Embody"
Seryn "We Will All Be Changed"
The Shoes "Crack My Bones"
*Smith Westerns "Dye The World"
The Smithereens "What Went Wrong"
Sneaky Sound System "Big"
Star Slinger ft. Reggie B. "Dumbin' (Diplo Remix)"
Stay+ "Young Luv"
Still Corners "Into The Trees"
*Stratus "Jasper's Theme"
Switchfoot "Afterlife"
Mina Tindle "To Carry Many Small Things"


MINA TINDLE – TO CARRY MANY SMALL THINGS from gorillavsbear.net on Vimeo.
*Urge Overkill "Rock&Roll Submarine"
The Vaccines "Wetsuit"
Tom Waits "Hell Broke Luce"
We Were Promised Jetpacks "Sore Thumb"
The Weeknd "Wicked Games"
*Wilco "Whole Love"
Wild Flag "Something Came Over Me"
Wooden Wand & Briarwood "Winter In Kentucky"
Willie Wright "Dressing For The Occasion"
Yelawolf ft. Kid Rock "Let's Roll"
*YP "Who I Be"

Young Chris ft. Future "Racks On Racks"
Young Galaxy "The Angels Are Surely Weeping"
* = local