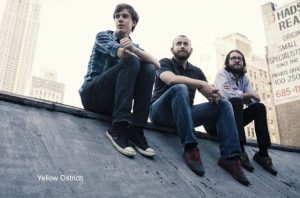 Thanksgiving eve is annually as wet as Mardi Gras — musically, it's also drier than a microwaved turkey dinner. This weekend is your last chance before Midwestern winter sucks your music choices away. Witness Hey Rosetta, Yellow Ostrich, Girl In A Coma, Thinker Thought's 10th anniversary, and XD Records' first-annual showcase.
This time next year, Hey Rosetta might not be awaiting their first-ever Grammy nominations. Mostly, that will be because they won't have an album out. But ATO Records — Dave Matthews' RCA subsidiary — just picked up the band and might have them squeeze something out for 2013. Whatever happens, it's doubtless anything the band do will be as heart-wrenchingly sincere as last year's Seeds, which takes The Frames' model ups the stakes, and then demands a bigger pitcher with which it can pour out its heart. Drenched chords and emotions rarely get rendered more powerfully than this. (Friday@Lincoln Hall with The Jezabels.)
If you want rock bands who enjoy the looping — Andrew Bird, Tune-Yards — you could do worse than Yellow Ostrich (though probably not as far as the name). Alex Schaaf, who's since recruited some band members, differentiates himself on The Mistress (Barsuk) by liberally sprinkling doses of the highly personal. Normally, you'd think a singer/songwriter would accomplish this with a cutting lyric or wrenching confession, but Schaaf's the kinda guy who kicks things off with his voice a little close to the mic, and, this being looped sounds, makes sure he's right next to your ear for the next 3:30. That his record hints he can keep up with Bird and Tune-Yards justifies this decision. (Friday@Metro with Ra Ra Riot and Delicate Steve.)
With everyone talking about Teri Gender Bender and Le Butcherettes, the prospect of another female-fronted rawk band from near the Texas/Mexico border brings exciting prospects. Girl In A Coma and Nina Diaz can bring chaos on Exits & All The Rest (Blackheart), particularly on fraying cuts like "Hope," but have more in their repertoire than animalism. At the album's onset, she prowls like Alison Mossheart in "Adjust," but before long she's bopping bubblegummy "ba-da-bas" in "Smart." Equal parts Mossheart, Emily Haines, and Chrissie Hynde, she's most engaging while cooing the sweet "Control," which shows her heart systematically destroying her tough exterior. (Saturday@Double Door with The Coathangers.)
Record labels like to party, too, and it just so happens that this weekend is crowded with their doings. XD Records takes over Reggie's Joint on the 19th with its roster, including Bloody Knives, Music For Headphones, Her Vanished Grace, 2060 Chiron, and a trio of local acts: Bliss.city.east, Panda Riot, and Lightfoils. Over at Panchos (following the previous night's festivities in Peoria) on Sunday the 20th, Thinker Thought celebrates a decade of sitting for Rodin and has Dripping Slits, Downers Of The World Unite, Tina Sparkle, Empty Orchestra, Werepire Day, Jared Grabb, and Bill Tucker And Friends out to celebrate.
— Steve Forstneger
Category: Stage Buzz, Weekly