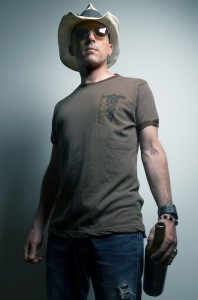 In spring 2010, serial frontman Maynard James Keenan brought his Puscifer act to The Vic for a three-night stand. The run of shows saw the act deliver a highly theatrical series of concept performances, including one night's hillbilly-centric event, wherein Keenan played the part of country-fried frontman Billy D.
With stage props and video interludes tying into a dedicated redneck storyline, in addition to countrified versions of the band's selections, the performance displayed an impressive dedication to Puscifer as a theatrical venture. With the title and cover of the band's brand new sophomore effort, Conditions Of My Parole, seemingly tied into that narrative, and video from the Billy D. performances playing onstage prior to the band's proper set, all signs pointed towards continued theatrics at Tuesday night's Puscifer show.
Unfortunately, such was not the case. Despite the onstage presence of a trailer as well as fold out chairs and tables, Puscifer's Cadillac Palace Theatre outing offered little in the way of theatrics and even less in the way of story. Which isn't necessarily something to hold against a hard-rock show, but given the red herrings surrounding the night, and the act's origins in none other than "Mr. Show," Puscifer's straight-faced set felt a bit like an assignment completed last minute on the school bus. All the required elements were there, but the lack of presentation and preparation showed through.
Thankfully, what Tuesday's set lacked in theatrics it more than made up for in power and mood. For 100 minutes, Puscifer delivered a performance that wasn't afraid to be punishingly heavy. Such was the case with "V" Is For Vagina offerings like the thunderous "The Undertaker" and the alternatingly droning and grinding "Vagina Mine." Newer cut "The Rapture," meanwhile, filled the spacious theater with huge drums and an enormous breakdown. Performances like a seductive, Carina Round-fronted version of "Rev. 22:20" switched up the tone of the night a bit, as did the synth-driven and electronic "Oceans" and the atmospheric dream-pop of "Monsoons." But by and large, a grim and heavy tone held over Tuesday night's set. Which isn't a fault in and of itself, but for an artist like Keenan — who already has two other doom-and-gloom hard-rock projects intact, one has to wonder why he ditched the wry humor of his one fun outing.
— Jaime de'Medici
Category: Live Reviews, Weekly