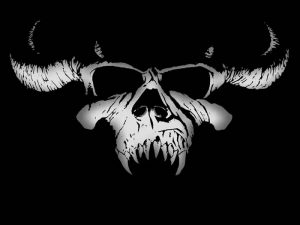 Here's your end-of-weeks primer: Danzig tonight! Plus Parliament/Funkadelic and Locrian!
Toeing a line between camp and brutality, Glenn Danzig's Misfits packed fist-pumping anthems into chaotic hardcore punk, being so cold as to use dead-JFK cover art but then gleefully releasing the Night Of The Living Dead EP on Halloween. His legacy secure – and he's touring as "Danzig Legacy" – he dove into his Satanic Elvis solo project, but seemed to forget the joke when left-field popularity struck in the mid-'90s. Now that most of his early fans are fathers, he'll see how many of them are still willing to bang heads with him. Danzig Legacy (Misfits, Samhain, and Danzig) plays Congress Theatre as part of Riot Fest on October 7th.
October 8th
After Blackula effectively drained the blood from black horror, African-Americans' music-plus-Halloween prospects became direly limited to whatever costumes The Chi-Lites could dream up. And then came George Clinton. What sees Parliament/Funkadelic trump their becostumed goth and metal peers is the fact they had to weird the music out, as well. O.K., maybe the drugs were mostly responsible, but putting a grown man in a diaper and bonnet every night made Angus Young look the lame one.
October 9th
"I hold a special place for [Halloween] in my heart. I light lots of candles and listen to classic metal at this time of year," says Locrian's André Foisy. On selecting a potential grand marshall for a local, Halloween parade? "Not sure, I guess it would depend on where it would took place. I really like classic Anthrax and I'm really excited that they got their early singer Joey Belladonna to sing again. They have a new album, but they didn't bring back their classic mascot Not Man, which sucks."
For more on Locrian, Patrick Conlan writes, "Few artists can legitimately claim to be terrifying — Locrian is one of them. Sculpting bleak, harrowing soundscapes from claustrophobic, minimalist drones, haunting, chanted vocals, and spectral percussion, Locrian explores the depths of the tragically sublime. Tribal drums pound in the background as earth-rattling thuds and jet-engine drones rip through "At Night's End," and similar, faint echoes of harmonic buzz form the backdrop for blood-soaked screams and tortured moans in the foreboding "Obsidian Facades." (www.myspace.com/thelocrian)