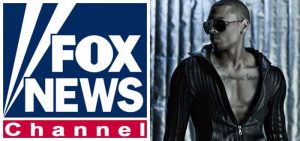 There'd seem little to bind Fox News and Chris Brown. We examine the connection prior to Brown's concert this weekend, along with Ani DiFranco, Laura Marling, local stars packing a local benefit, New Villager, and Toddla T.
Liberals complain that Fox News Channel unrepentantly parrots right-wing propaganda under the auspices of actual journalism. A neutral or Swiss person might point out that, historically, such partisanship has roots in colonial (ahoy, Tea Party!) newsmaking, and that media objectivity on a whole is pure myth: point of view is point of view. As the cloaked examples provided by Keith Olbermann and NPR have exposed, Fox's open pandering can actually be refreshing because of its paradoxical honesty.
Chris Brown, likewise, is the enemy. Convicted of beating up then-girlfriend Rihanna, he suffered a mainstream hiding while remaining extremely popular among his base. After lying low and watching his victim praised for pressing charges and then releasing a resilient record, Brown came back this spring with F.A.M.E. (Jive), whose opening track reaffirms his misogyny ("women," not men, "are liars") and basically tells Rihanna to go fuck herself. The balls on this guy . . . but if he came back on his knees, would anyone believe him sincere?
It is extremely difficult to sit through F.A.M.E and not see red. But his refusal to apologize — shit, the mere existence of the putrid "Deuces" — isn't what makes it such a poor outing. To put it in terms he might understand, it's like an orgy in a pitch-dark room where he has no idea what he's touching or is touching him and, after 5 minutes of posturing, just retreats to a corner. He calls on Busta Rhymes and Lil Wayne to bolster his street cred, and ends up sounding like Trina in the presence of Chuck D and B.I.G. "Yeah 3x" cynically rips off Black Eyed Peas, and "Wet The Bed" indulges his sophomoric, pornographic fantasies. (Lest you think it a one-off aberration, check his verse on Pretty Ricky's "Body 2 Body.")
F.A.M.E might've earned a place in history had Brown seen this doomed act through to the end, but the second half shows a lack of confidence by retreating into doe-eyed ballads (Justin Bieber guests!) and generic synthpop. "Should've Kissed You" includes an unintentionally dark moment, where he bemoans a missed opportunity because "I lose my cool and I blow it." At least Fox News has the courage to maintain the pose. (Friday@First Midwest Bank Amphitheatre with Kelly Rowland, T-Pain, and Tyga.)
There's little doubt Ani DiFranco likes the idea of Fox News or Chris Brown (though she has collaborated with Greg Dulli), but her appearance this week has none to do with protesting either. Though she hasn't released an album since 2008's Red Letter Year, DiFranco has been roadtesting material for 2012's tentatively titled Which Side Are You On? Fans who are unsure if they can make it that long can dive on her submission to the upcoming Note Of Hope: A Celebration Of Woody Guthrie like a homeless hipster on a discarded, unfinished cigarette. (Wednesday@Vic with Anais Mitchell.)
A collection of local bands will play a benefit for the teenage children of late Hanover Park mom Jennifer Gustafson. (She was found dead in August; her husband, a primary suspect, died from wounds suffered during an altercation with police shortly thereafter.) Their children are now in the care of their godparents, so Rev. Billy Simmons of Rev. Billy's Chop Shop and the local band US/UK have decided to help. Alongside US/UK, Siderunners, Big Science, Scott Lucas & The Married Men, Blind Staggers, Soft Candy, and Jayh Johnson will perform while silent auctions and a marketplace of donated art pieces are also available. (Wednesday@Lincoln Hall.)
On her third LP, 21-year-old Laura Marling waxes about a man pledging more love than her four sons combined — one wonders if she mentioned he'll also have to match the strength of her band. As the British singer/songwriter's Joni Mitchell-esque jazzy speak/sing conversationally renders her nimble tales, the music she and her mates accompany it with becomes ever steadily a rival for acoustic Jethro Tull. A Creature I Don't Know's prog accents never grow sluggish or distracting, but they are powerful and moody enough to stand on their own. Though the cocktail can be somewhat stiff on record, the album clearly lends itself toward concert recreation, where Marling and co. can adlib with an ever-muscular grip on the plot. (Thursday@Lincoln Hall with Alessi's Ark.)
Mostly due to how they track vocals, New Villager must know they sound similar to TV On The Radio. At one point on their self-titled, Iamsound debut, they remind you not to look at the sun — which could be a plea to ignore "Staring At The Sun" or Nine Types Of Light. Closer listening, however, reveals subtle differences and a justified existence. For one, the harmonies are absolute: extremely rare is the instance where Ben Bromley or Ross Simonini sings alone, prowling in tandem like tank treads grinding up soil. As opposed to Krautrock and dub, New Villager's swirling psychedelia (occasionally a baroque suite, like "Lighthouse") dumps depth-charge bass notes over the deck, never jarringly but enough to buffet the songs and nudge them forward. And then, debunking any remnant suspicions, New Villager's entrenched narrative requires several deep sessions just to get a grip on it — and there's a whole A/V accompaniment waiting for you online, as well. (Thursday@Empty Bottle with Bachelorette and Tiny Fireflies.)
As American pop producers show firmer grasp of the deafening blasts of Euro synth pop, it's easy to ignore how it has since evolved in the hands of the natives. English DJ Toddla T suggests that in London and his Sheffield, at least, it has cultivated a decidedly Caribbean accent. Watch Me Dance may kick off with the Roots Manuva-assisted electro-funk of the title track, butt into Basement Jaxx with "Take It Back," and full-on grime with "Cruise Control," but progressively inflections of dub, roots-reggae, and dancehall leave their mark on him. "How Beautiful It Would Be" barely survives its "I Can See Clearly Now" sincerity, but the hilarious "Badman Flu" and isle-moderne "Cherry Picking" point to where our pop might be in 10 years. (Friday@Smartbar with Roska, DJ C, and Chris Widman.)
— Steve Forstneger
Category: Stage Buzz, Weekly