Flying Saucers Rock 'N' Roll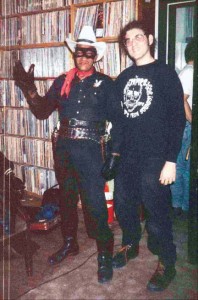 When someone is barely even mentioned anywhere on the Web, that's when you know what obscure really means – and it's amazing how much info has yet to make the billions of pages that Google looks through," says author and "Chic-A-Go-Go" cofounder Jake Austen. As publisher and editor of Chicago-based Roctober magazine, he's spent the past two decades publishing the work of underground cartoonists and writers, and telling the stories of the most unique, overlooked, underappreciated, and obscure musicians and artists on the planet (and beyond, if you believe the band Zolar X).
Austen started the magazine in 1992, when he was a student at the Rhode Island School Of Design – "if you can use the terms publishing and magazine to refer to a messy clump of stapled Xeroxes ornamented with crayon marks," he writes with trademark humility in the introduction to the new book, Flying Saucers Rock 'N' Roll: Conversations With Unjustly Obscure Rock 'N' Soul Eccentrics (Duke University Press, $24.95). It features 10 Roctober interviews with everyone from Sam The Sham to Oscar Brown, Jr. to Armenian-American novelty artist Guy Chookoorian, who covered R&B hits in his native language. The riveting pieces are by Austen and other Roctober contributors, whose unbridled enthusiasm for their subjects makes the book hard to put down (plus there's an enthusiastic foreword by longtime fan Steve Albini).
The title comes from a song by the late-'50s rockabilly artist Billy Lee Riley, whose 60-page interview with Ken Burke is the book's longest (and is the longest that Riley gave in a career that spanned five decades). "I think as a genre – dynamic music that is not really of this world – [the title] applies to everyone in the book, especially the actual space-alien group Zolar X," says Austen, author of 2005's TV-A-Go-Go: Rock On TV From "American Bandstand" To "American Idol."
But an artist doesn't have to be obscure to appear in Roctober. "We have had articles about Kiss and Michael Jackson – but some aspect of their career has to have escaped good coverage," says Austen, admitting that two of his favorite pieces – about the late disco singer Sylvester and underground filmmaker and musician Sid Laverents – didn't make it into the book. "Basically, nothing in Roctober can read like it was written by a publicist, or like a writer is trying to fill a word count to get paid. The writer has to have and be able to share the passion they feel for their subject. But usually it is with a subject that it is exciting to learn their story because it has never been told before."
Austen has only to check his computer to see if he's done his job. "Even if we've never wielded enough power to put much money in the pockets of our interviewees (or ours, for that matter), we take satisfaction in the fact that Google no longer mocks them with a smug, 'Your search did not match any documents,'" he writes in the book's introduction.
Each piece is a labor of love, since no one gets paid for writing them. Austen's piece on NYC's The Fast (included in the book) began with a several-hour interview and included many follow-ups. "In the Internet era I guess stuff takes a lot less time, but back when it was libraries and microfilm and collectors and artists' personal archives that held all the hidden info it took ages to research stuff," he says. "But it was always worth it."
Many of the artists who've been in the pages of Roctober have also appeared on "Chic-A-Go-Go," the show that Austen created with his wife, the film scholar Jacqueline Stewart, after Austen interviewed Jack and Elaine Mulqueen, cohosts of the '60s preteen dance show, "Kiddie A-Go-Go."
"We have done about 800 episodes, and we try to get everyone on 'Chic-A-Go-Go' that we interview in Roctober, if possible, because we love to see young people reacting to old, off-center music," he explains.
Austen says the highlight of his work at Roctober magazine occurred after he wrote a mostly glowing but mildly critical review of the 1995 book, Black Monk Time: Coming Of The Anti-Beatle by Eddie Shaw, who was the bass player for the '60s proto-punk garage-rock band, The Monks. "The self-critical aspect of Eddie delighted in getting actual criticism, and out of the blue he calls me on the phone telling me how much he loved the review, and invites me to Bemidji, Minnesota for a Monks reunion at lead singer Gary Burger's cabin," Austen explains. "I end up sleeping in a tent with Eddie and his daughter, watching the band play jam sessions in Gary's studio, and having a bonfire with the group."
The 50th issue of Roctober comes out next month; a subscription for the semiannual magazine is $10 for three issues. "Chic-A-Go-Go" airs Tuesdays at 8:30 p.m. and Wednesdays at 3:30 p.m. on Chicago Public Access Network's Channel 19, and anyone can attend the tapings. More info at roctober.com.
— Cara Jepsen