Falling Far From The Tree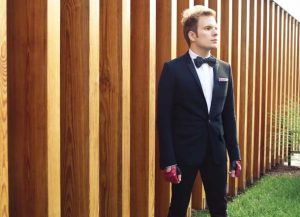 Just because someone's a Fall Out Boy fan doesn't mean they're going to like Soul Punk (Island), and the opposite might go for anyone who dismissed the band in the past. That's because Patrick Stump had a completely blank canvas for the first time in his career, and allowed all of his personal tastes out of the bag – and, as the album title so aptly describes, serves up a rebellious brand of R&B.
Appearing: November 11th at Metro in Chicago with Rockie Fresh.
"I want to challenge that paradigm in the punk community, where some artists don't understand what punk is," the Glenview native shares on the phone during a stay in Los Angeles. "They've got this idea it's a sound, look, and a thing, which I think is so silly because the least punk rock thing you can do is give it a box … When I look around, there's a lot of precedence for punk going into other places, and I feel like Francis & The Lights or Janelle Monáe or Bad Rabbits either came out of the punk scene or are very inspired by punk rock, even though there's a lot of R&B and soul to what they do."
Scan the 15 tracks from the Soul Punk sessions and chances are Stump's versatile voice will stand out most, while the dance-floor friendly beats, brass grooves, and funk flourishes will command the attention of an entirely new crowd. "Obviously the majority of people know me from Fall Out Boy, and if that pop/punk style is exclusively your interest, you will absolutely not like this," he continues. "I kind of stripped away a lot of expectations of the band and my circumstances and just made what I wanted to make. There are pieces of David Bowie, Brian Eno, and Kraftwerk and, at the same time, Prince, Michael Jackson, and just '80s pop/R&B music. There are also pieces of rock and fusion jazz, but for the most part, it's upbeat pop and R&B."
Thus far in his hometown, Stump performed on his own at a sold-out Schubas and more recently in front of a mass of bodies at Lollapalooza. Though it's always difficult to preview an album before it's released, hardcore fans were already familiar with some songs. Stump had test marketed various versions and mixes online before whittling down the final track selection. However, those hoping for a blast from the past were left with their wishes unfulfilled, though once again, Stump was more than upfront about his solo status.
"I consider this a solo show and stick pretty exclusively to solo material," he reinforces. "It would be one thing if I was Sting and I wrote all of [The Police's] songs, but it's another thing to me when it's a dramatic stylistic shift: they're not my words and Fall Out Boy is not the band that's playing with me. Since the band didn't break up, it would be weird to play those songs with other people and, ultimately, I don't want to capitalize on that and I don't want to cheat somebody out of money."
Stump's honesty campaign is admirable, though it's even more impressive to find him playing each and every instrument on the album. The exhaustive liner notes list everything from guitars to drums, bass, piano, analog synths, trumpet, trombone, saxophone, mandolin, and a few other random obscurities.
"I did my best, and while I'm not the best trumpet player, I made it work," he admits. "When it comes to pop music, there's this perception that all you have to do is press a button on your iPad [to get the sounds] but I wanted to make it with love and put a lot into it. A lot ofpeople asked, 'Where did you get the drum sounds?' I played them. 'What synth plug-in was that?' I played all the synths. 'How'd you get that bass tone?' It's a bass. I really wanted to put in the effort, even if people might not notice."
One element that's impossible to ignore is the deeply personal songwriting style that Stump displays, as opposed to the sardonic overtones of Fall Out Boy. While many of the songs are upbeat and celebratory, there's occasionally a sobering undercurrent with hints of what stresses the now 27-year-old out.
— Andy Argyrakis
For the full story, grab the October issue of Illinois Entertainer, free throughout Chicagoland, or click the issue's cover from our homepage.