What Dreams Are Made Of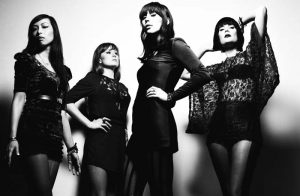 It's easy to laugh at Dee Dee Penny's current predicament. "There's a lot of construction outside my apartment," she says over the phone. "I can't hear a thing. It's awful."
Appearing: Friday, October 14th at Empty Bottle with Crocodiles.
When she broke out in 2010 with Dum Dum Girls' full-length debut, the crudely produced recording's din was akin to a disc that had been dubbed to cassette, transferred to digital, compressed, re-pressed on vinyl, and then echoed through a Graphophone. Craving quiet for herself seems something ironic.
But we don't laugh because that's the Dum Dum Girls of old. Penny (born Kristin Gundred) has since hired three full-time bandmates to accompany her (Jules, Bambi, and Sandy), recorded in a proper studio, and released a sweetly Spector-esque sophomore outing that could wind up in the oldies bin were it not for its bell-clear reproduction.
"I think we mixed it about three times," she proudly notes, "had it mastered a couple times, and then went back and finessed different parts."
That news might disappoint people who took to last year's I Will Be (Sub Pop/Hozac) for its living-room quality, girl-group pastiche. While she clearly embraced her rudimentary process, it was never an objective to sound so muddy. That's just the way it was.
"I'd been recording myself and those songs had been released on various, tiny labels," Penny says. "And so I just continued to record my new songs in that same manner. They were really good home recordings, or what you might consider demos if you were then going into a studio with a band or whatever. But when I signed with Sub Pop, we had to make that choice if I would just continue what I'd been doing and we'll try to spruce up a bit, or should we just use them as demos for a studio and find people to play with. We both agreed that it made the most sense to stick with what I'd been doing but try to improve it by finding someone to mix it really well. I'd been mixing them as well, and knew nothing about it. So Richard [Gottehrer, Raveonettes] came into the picture sort of randomly. Obviously the tracks were already done, so I sent my mixes of every song with all the effects, and then I sent him the bare files individually. So we re-amped things, re-affected things, and went in with an engineer to mix it as best we could, considering all the limitations of having recorded on a 4-track."
As foretold by this spring's He Gets Me High EP – and its ravishing cover of The Smiths' "There Is A Light That Never Goes Out" – times have changed. Only In Dreams provides separation between the jangling guitars, bass, drums, and, most effectively, Penny's unflashy but skilled vocals. Between openers "Always Looking" and "Bedroom Eyes," she turns from leather-jacketed Ramones sis to the lost Ronette – able to convey being lovestruck in two different languages without ditching the album's aesthetics.
"The EP was another step forward in that we went into a small studio, just me and the producers," she notes. "We did tracks instrument-by-instrument, but it was in that studio setting with better equipment. And then the logical step was a small, but well-stocked studio to record live guitars, bass, and drums, and just using my recordings as references or demos."
Apart from the surroundings, Penny also emphasizes the effect her band had on the result.
"If anything," she says, "I really enjoyed working with people who are really good at what they do, so I can get back to focusing. I'm a much better singer than I am an engineer, so I'm happy to pass that off. We were very much all on the same page. It's always been a pretty easy working relationship. I don't have to shoot down ideas that I feel are inappropriate, because they don't exist. In the past, because the songs came before the band, it'd be like, 'Oh well, this is the part.' Definitely with this record, I didn't flesh out the demos as much as I did in the past, because I knew we'd be rehearsing together for a long time and there could be more collaboration on their part. They're better at their instruments than I am at their instruments, and I was happy to have them at the helm of what they were contributing."
While a move out of the lo-fi doldrums was probably always in the cards, Penny's development as a songwriter in little more than 12 months is impressive. I Will Be teems with punky attitude, and rides a pop-pop/pop drumbeat almost exclusively. Dreams still takes only a half-hour to digest, but its depth and range – while remaining taut – run counter to being thrust on the road for the first time (with bands such as Vampire Weekend) and having one's tires pumped in countless interviews. She seems almost unaware, however – unimpressed with herself, at best.
— Steve Forstneger
For the full story, grab the October issue of Illinois Entertainer, free throughout Chicagoland, or click the issue's cover from our homepage.