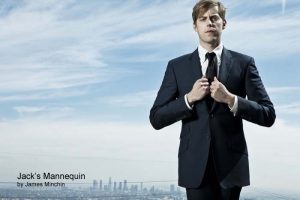 Between the constant rain, empty spots in the pavilion and lawn, and complete mid-set power outage, Chicagoland's famed outdoor venue Ravinia wasn't real kind to
Guster
and
Jack's Mannequin
on Saturday night, as both bands played their debut show there. Fortunately, neither group let those challenges affect their sets.  
Though this was their first time touring together, both bands have a lot in common. While neither has yet reached the stratosphere of commercial or critical success, they have developed loyal fanbases. Both are supporting recent releases, and both are known for uniquely compelling (and fun) live shows.  
Jack's Mannequin
kicked off the night as co-headliner, with frontman (and leukemia-survivor)
Andrew McMahon
passionately leading from the piano as usual. It was his 29th birthday, which prompted him to "spontaneously" add crowd-favorite "Hammers & Strings" to the setlist. Though trying to engage a crowd at a rock show while from a piano can prove challenging, McMahon has mastered it. He sings and plays with fervor while seated, and finds ample opportunity to get up and move around the stage (on the songs that allow it), and when he's really feeling it, he'll even stand on and jump off the piano.  
JM played through all the hits and crowd favorites from their previous two releases (
Everything In Transit
and
The Glass Passenger
), and debuted several songs off the forthcoming
People & Places
. A sudden power-loss caused the stage to go dark mid-song at one point, but McMahon and company were unfazed, and used it to energize the rain-soaked crowd and push through. For the finale, JM were joined on stage by
Guster
's
Ryan Miller
and
Luke Reynolds
for a crowd-pleasing rendition of "La La Lie."  
The rest of Guster then took the stage for a slightly longer set of acoustic/pop/folk rock that spanned their six-disc career. The Bostonians never take themselves too seriously as they fill the set with surprises, while frontman Miller rivals Weezer's Rivers Cuomo as geekiest rock star. From an impromptu ditty ("The Meat-Cup Song") about Miller's latest food-invention to the singer finishing one song wearing a huge discoball with built-in mic and shiny cape, the band kept even the less familiar fans engaged. The biggest shock came with the band's closer: a cover of Whitesnake's classic rocker "Here I Go Again," with the first verse handled by JM's McMahon, and the rest of the song belted out by comedian
Will Forte
, much to the excitement of the entire, wet Ravinia crowd.  
Of course Guster are about much more than goofing around. The quartet (which grew to a sextet at times) have some serious musical chops, and once again, they proved it.
Brian
"Thunder-God"
Rosenwercel
displayed his usual percussion-prowess by alternating between a full bongo/congo set and the regular kit, and the entire band played a wide variety of instruments, including banjo, ukulele, harmonica, trumpet, and steel guitar. Vocally, the harmonies that permeate most of their recorded music were just as spot-on in their live show.  
No matter the venue or length of their career, Guster continue to play with the laid-back attitude and fun of a college band putting on a show in a frat house basement — a really good college band.  
— Carter Moss
Category: Featured, Live Reviews, Weekly