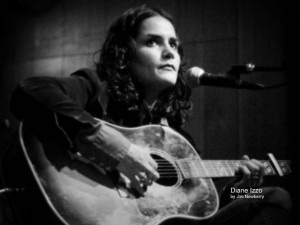 Before we beat you upside da head with the October issue, perchance you'd glance at previews for the Diane Izzo tribute, Chipotle's Cultivate Chicago fest, Wild Beasts with Twin Sister, Randy Montana, Wood Brothers, and Darling!
Though Neko Case and Ryan Adams had a relationship with Chicago through Bloodshot, but Diane Izzo's One seemed primed to be the first local singer/songwriter affair to crack the alt-country zeitgeist. Like its dark, mysterious songs, however, the album passed under the national radar, however, and Izzo's career became one of the great what-ifs. She left the Hideout scene in the early 2000s and lived in New Mexico where her brain tumor was discovered in 2008. This weekend, her friends will host the First Annual Diane Izzo Memorial Concert. Califone, Souled American, Cheryl Trykv, Crooked Mouth, and more will play, and they've also posted a Facebook page where others can recollect Izzo stories and reflections. (Sunday@Hideout.)
For a formerly Coca-Cola owned, limited-menu fast-food Mexican restaurant founded by a white dude from Indianapolis, Chipotle sure has an enviably esteemed reputation. Maybe it's the organic ingredients holding up its cred (or perhaps the fact it sells beer). Either way, it comes to Lincoln Park this weekend for the Cultivate Chicago one-day festival to put celebrity chefs and critically acclaimed indie rockers in the same arena. (Michael Anthony and his hot sauce were asked to stay home.) On the musical side, a stout lineup of Calexico, Mayor Hawthorne, White Rabbits, Rural Alberta Advantage, and The Cave Singers will give you a chance to work off those calories; the chefs have been tasked with creating a menu from food made available by local farms, to which culinary proceeds will go. (Saturday@the intersections of Clark & LaSalle and Lincoln & Stockton.)
With Smother, its third full-length recording in as many years, the four U.K. Lake District romantics who comprise Wild Beasts have made quite the splash across the big pond, generating big waves of raves in the wake of its release. And indeed, in the erotically intimate, none too thinly veiled lyrical wordplay, the upper-ranged and oft' falsetto-softened vocals dovetail with the music's ambient swings between minimalist sensuality and new-wave percussive immediacy. There's a lot to admire in this band's eccentric offerings, which conjure up the gothic ghosts of its forbear "homies" Coleridge, Wordsworth, and (both) Shelleys as interpreted/influenced by its contemporaries (David) Byrne, (Kate) Bush, and (Antony) Hegarty. Whether it's everyone's cup of tea is another matter; and whether it translates and resonates with an American audience not-quite-so-well-schooled in any of the turn of the 18th-19th Century Romantic legacy beyond vampires remains to be seen.
Opener Twin Sister have been around for an eternity in the blogosphere, but have only now gotten around to releasing their first full-length. In Heaven (Domino) comes just as the Color Your Life EP advertised: an effortless, analog pop confection designed for Hot Chip fans forced inside on a rainy Tuesday morning. (Saturday@Lincoln Hall.)
From sisters to bruddas, The Wood Brothers aren't on the same branch as the '90s bluegrass act of same name, and actually have a root in a completely different phylum: Medeski, Martin & Wood. Bassist Chris Wood's jazzbo/jam pedigree informs more of the siblings' third album – Smoke Ring Halo (Southern Ground) – than it has in the past, but Oliver's rich, soul-deep croon remains the focus. Chris' butt-shakin' groove on "Shoofly Pie" opens the band's sepia Americana up, though even a trio of John Medeski collaborations remains true to Oliver's bluesy roots. (Saturday@Space with Clay Cook.)
Randy Montana comes from upstate New York with a hankering for George Strait (Texas)-style melodies put through a Midwestern pop-rock grinder. (Given the regional smorgasbord, it's not a surpass country-rock crossover specialist Emmylou Harris would guest.) Even while trying to sort out his sound, the 26-year-old Montana pushes all manner of lyrical frontiers, from the love-at-first-sight whimsy of his self-titled Mercury debut's opener, "1,000 Faces," to a decaying marriage ("Last Horse"), and the workingman's lament ("Assembly Line"). He's still in progress, but once he picks a road to travel he could become a force. (Saturday@Joe's On Weed with David Nail.)
The Burlington in Logan Square has a new backroom, and Darling plan to turn it into their living room. Once there, they'll sonically pass out copies of their new Keep Out 7-inch – which oddly doesn't boast a song of that name – in all its straightahead, indie-rockin' glory. (Saturday@Burlington with Father Costume and Architecture.)
— Steve Forstneger
Category: Featured, Stage Buzz, Weekly