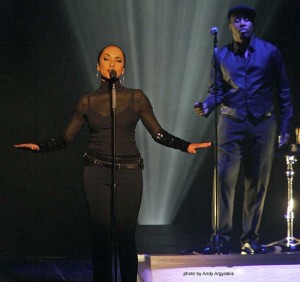 Ten years is a lifetime to wait for new music in this age of instant-gratification media like iTunes, YouTube, and Facebook. With maximum and constant exposure as the mantra for most artists, a musician who dares to ignore this doesn't stand much of a chance. Unless of course, you are Sade. Infamously releasing albums every decade or so, the 52-year-old British soul queen proved during a stunning, 22-song set at the United Center on Friday that good music is worth the wait.
In a nearly sold-out stadium of roaring fans, images of thunderstorms and lightning flashed across curtains as Sade and her band arose from below the stage in a paramilitary stance. Dressed in a black catsuit adorned with a leather utility belt and wrist guards, her trademark ponytail rippling down her back, Sade strutted across the stage singing "Soldier Of Love," with effortless control and supreme cool. As a video of dancers bounced to the electronic beat, in the background, the singer commanded the stage with her husky vocals for the rest of the show.
Saluting the crowd to deafening cries, Sade admonished, "Don't do this to us, it's a long show. You're going to have to keep it up." And they did. There were so many standing ovations that many fans were limping at the end of the nearly two-hour event. The playlist deftly mixed '80s hits like "Your Love Is King" and "Love Is Stronger Than Pride," with tunes from last year's Soldier Of Love so that it flowed like a multi-faceted show and not an oldies concert. "Show" was the operative word, because the singer — noted for her sophisticated demeanor and minimal movements — added welcome doses of choreography, special effects, and videos without changing her essence.
Demonstrating excellent range and requisite vulnerability, showstoppers included the melancholy ode to a woman trading on her beauty, "Jezebel," "Pearls," which had her alone on stage with a fiery sun behind her, and the riveting ballad "Is It A Crime." Having witnessed her triumphant performance at Montreal Jazz Fest last month, it was clear that the demanding songlist was weakening her voice slightly, but it's the mark of an accomplished singer when glitches aren't remembered but a tune's emotions are.
Slinking out in a hot pink gown, red jacket, and bare feet for her encore of "Cherish," she was slowly elevated on a platform, fittingly symbolizing her superior position in this era of flashy images and throwaway songs.
Opener John Legend provided the perfect pairing for Sade's smooth, old-school soul. Decked out in a pristine white vest and pants, he pumped out his vintage R&B sound on a piano, charming the crowd with his music including "Save Time For Love" and "If You Love Me."
— Rosalind Cummings-Yeates
Category: Live Reviews, Weekly