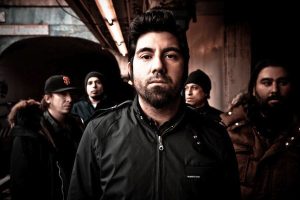 Following a serious car accident in late 2008, Deftones bassist Chi Cheng entered a coma, with his current condition described as "minimally conscious." In the aftermath of Cheng's tragedy, longtime friend of the band and previous musical collaborator Sergio Vega, formally of Quicksand, was brought into the Deftones as a touring and recording member in 2009. Vega would go on to perform on the band 2010 effort, Diamond Eyes, as well as at the album's tour dates. Now, settled into his role in the band, Vega spoke with IE about his reception within the group, joining under tragic circumstances, and the group's lost album, Eros, which was shelved following Cheng's accident.
IE: You've been a touring and recording member of the Deftones for a few years now. How has that been?
Sergio Vega: They're really nice people, and they just make me feel at home and comfortable. They're very nice to work with and collaborate with, I was totally surprised — (or,) not surprised about that, because actually, I've known them for awhile. We met on the first Warped Tour, and I filled in for Chi in '99, and so, being brought into it to this extent, and just the way they treated me and made me feel comfortable, while still Chi being very much a prominent part of the thing, and never making me feel like a way — just a friend, it's always been like, a friend. "You're a friend, you're a homie, thank you."
IE: It's never been Deftones and Sergio?
SV: No. I've always felt like brought into the fold and treated really nicely. it just speaks to their character, considering what they were going through, and not to have any carry-over and spillover. The way they treated me, the way that they were able to keep everything in a nice place, and Chi was always a part of our sessions when we were writing and recording, and just talking about him, and his presence was there, but in this really positive kind of energizing way. And, I can't speak highly enough of them, really. They're cool."
— Jaime de'Medici
Catch a teaser now, and check the full interview coming in the September 2011 print edition of Illinois Entertainer.
Category: Live Reviews, Weekly