Cat's In The Cradle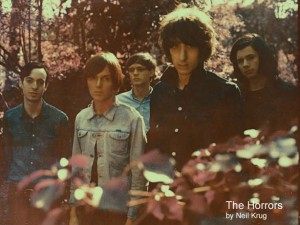 Horrors frontman Faris Badwan is eager to discuss Skying, his quintet's sonically adventurous new third album – a record that's just landed him squarely in the Top Five on the U.K. charts. But first? He'd like to wholeheartedly apologize for being a no-show on these shores a couple of months ago, when an entire tour with his other outfit – the great Bardot/Gainsbourg-ish duo Cat's Eyes, featuring ethereal keyboardist/vocalist Rachel Zeffira – was suddenly cancelled, tickets refundable at place of purchase, thanks. So sorry, folks, he sighs. "But basically what happened was, the visas weren't sorted out in time, so we had no choice. And it was pretty annoying, really, with all these new visa rules. It used to be a lot easier to get visas, a lot quicker, so we just couldn't come, after all."

Appearing: September 25th at Lincoln Hall (2424 N. Lincoln) in Chicago with The Stepkids.
America's loss. Cat's Eyes' eponymous debut – recorded at Peter Gabriel's RealWorld Studios outside of Bath with ken-eared producer Steve Osborne – is awash in the best Yi-Yi/Phil Spector wall-of-sound traditions, with a twist of Joe Meek kitchen-session sensibilities thrown in for good retro –hip measure. And it's no urban legend or industry in-joke – he and Zeffira really did perform their madrigal "I Knew It Was Over" at St. Peter's in the Vatican, before an appreciative audience of seven high-ranking cardinals last December. "It actually happened, and it was very, very overwhelming," he sighs. "It was on of the more surreal experiences of my life. And Rachel sang for the Pope when she was a teenager, and she's also half-Italian, and there's literally no way to do what we did without speaking Italian."
Badwan and Zeffira met around their native London, and united over a love of cinema – black-and-white classics like Cocteau's Orpheus, where Death falls in love with a Parisian beat poet. "So we didn't talk about music for ages – we talked about films a lot instead," says Badwan, clarifying that they're not a couple – just perfectly in-sync composing partners. "And then one day, I was doing some work in the studio, and she came down just to hang out or whatever, and then we started writing a song together." Before the pair knew it, they'd into a tournament of one-upmanship; he'd send her a completed song, she'd shoot two of her own right back to him. "Then we started competing against each other," he adds. "And the way that we work best now – competing with each other and spurring each other on. And eventually, we had enough tracks that we wanted to record properly."
The team nailed that '60s-girl-group feel so well, in fact, that they've already begun work on a Cat's Eyes sophomore set. But right now, The Horrors' batphone is ringing off its scarlet cradle; fresh from knocking 'em dead at Britain's sprawling Glastonbury Festival this summer, the band (visas all duly datestamped this time) are heading to the States for a lengthy club tour. And anyone who thinks they've pigeonholed Badwan and company's sound – via their Gothic-garage Strange House debut from '07 or its more melodic successor, the Geoff Barrow-aided Primary Colours from '09 – had damn sure better think again.
Skying is the polar opposite of the condensed Cat's Eyes – expansive, panoramic, psychedelic in places, and abuzz with spooky synthesizer and guitar effects (courtesy of boundary-pushing mad scientists Tom Cowan and Josh Hayward, whose self-invented phaser dubbed The Grandmaster Skyer Mk. V helpd dub the album, as well). A couple of its cuts, like "Oceans Burning" and "Moving Further Away," clock in at around eight processional minutes. Others, like the punk-riffed "Monica Gems" and the symphonic tumbler "Changing The Rain," go right for the hook-savvy jugular. Others rely on stylistic twists, like the gauze surrounding Badwan's voice on "Wild Eyed," the backwards guitar masking that underpins "Still Life," or the ascending/descending keyboard notes that provide the spinal column for "I Can See Through You." Creatively, The Horrors have traveled light years since their almost cartoonish, shock-rock beginnings. And they're undertaker serious about their continued progression.
Morphing, moving forward from record to record? "That's what we always thought an artist should do," growls Badwan, bristling over the fact that Skying has been aesthetically compared to the majestic early period work of Simple Minds (which it does slightly echo). "Because really, what we enjoy hearing in other bands is that desire . . . to be excited. Excited about making music. Or to put it simply, to actually be enthusiastic. So each of our three records is the sound of five people, five people totally filled with enthusiasm."
Ironically, it was Portishead anchor Barrow who set the outfit on this reflective path at the end of the Primary sessions. Why bring in some high-priced producer, he said, when The Horrors could ably complete said task themselves the next time around? The lightbulb went off, and they decided to grab the reins. But they wanted to do it their way, in a comfortable new retreat that was all their own. What about the hideout they settled into in East London screamed perfect studio? Badwan cackles, raven-croak-deep. "Really, very little! It was basically a big concrete loading bay – it was all of our equipment that we put in there that turned it into the monstrosity that it is now.
"But we spent a lot of time looking for the right space," he continues. "Then Josh and Tom did most of the building – Josh even built most of the gear himself. I think we just wanted a space that we could sort of immerse ourselves in, a place where we could spend loads of time just working on the record, really." And what, exactly, is the 20-stage Grandmaster Skyer phaser capable of doing? Badwan clucks again. "To be honest, you'd have to talk to Josh about that one. If I was to try to question every little thing that Josh is building, I don't think I would've written any songs!"
— Tom Lanham

To read the full story, grab the September issue of Illinois Entertainer, free throughout Chicagoland, or click the cover of the new edition on our homepage.