Tomorrowland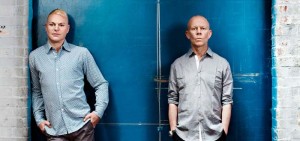 One of the synth-pop era's most innovative, infectious, and flamboyant acts, Erasure has spanned two-and-a-half decades with constant rotation in the clubs, with the occasional, percolating radio smash. Despite changing times and tastes, the duo – frontman Andy Bell and keyboardist Vince Clarke – appears to be back in full swing following a four-year break. The return, Tomorrow's World (Mute), provides a decadent throwback to those pulsating, '80s salad days, but also a fresh and futuristic bent that confidently contends with Lady Gaga or La Roux upstarts.
Appearing: September 16th and 17th at Congress Theater in Chicago with Frankmusik.
"After the last tour in 2007, we thought it would be quite nice to have a break, especially after doing Erasure for 25 years with 13 albums and loads of tours," shares Bell during an afternoon off in Argentina. "I released my second solo record, Non-Stop, and Vince called asking me to hear it before he finished, which is exactly what I do when he's working on a record. [Also during the break] Vince was installing a studio in Maine, where he lives now, and he went on tour with Yazoo for awhile. It's always nice doing something outside of Erasure, because it gives you a fresh perspective when you go back to the band. We've been working together again for the past two years, writing for the new record in L.A., London, and New York."
As for the sounds contained therein, there are plenty of throbbing beats, bubbly grooves, and Bell's florid falsetto, though the carefree tunes also benefit from the current touches of producer Frankmusik (a.k.a. Vincent Frank). The ascendant 25-year-old has already notched remix credits for Lady Gaga, Pet Shop Boys, and Far East Movement, while his upcoming sophomore solo record looks to best the top-20 success his debut had in the U.K.
"Tomorrow's World is quite a good description of how it sounds," continues Bell. "There's a very modern wall of sound in the electronic style with melodies that are much brasher than normal but definitely danceable. I think it seems like a renaissance with Frankmusik, who caught our ear after being suggested by some fans and wound up working out after a series of other producers fell through. He's breaking through on his own in America, and brings a fresh feel and energy to the music. He was only [just] born when Wonderland came out, but his Mom's a big fan of our music and Vince's other projects [like Yazoo and Depeche Mode], so she was very proud."
Though the disc clocks in at just over a half hour and spans a mere nine songs, there isn't a letdown in the batch, truly standing out as Erasure's strongest project of this millennium and arguably the best since its glory years. The album serves as a bookend to 2007's Light At The End Of The World, which marked a much anticipated return to the dancefloor. The decade began with a string of specialty projects, including 2003's covers-centric Other People's Songs and 2006's country rearrangements record, Union Street – which may have allowed the pair to break a monotonous cycle, though it left some pent-up fans with their arms folded.
"Lately it's been about what we feel like doing and keeping it fresh," explains Bell. "When you're doing the same songs every night, it's almost like you're just singing along to the single, which is hard for me and you can get monkey-on-the-barrel syndrome. I like to try different things now and again with different interpretations of songs, plus my second solo record was minimal electro just to mix it up."
While the group plots its Tomorrow's World tour, there will be plenty of playlist shuffling, starting with a mixture of hits and rarities that incorporates new tracks as the October 4th street date approaches. "At the moment we have a setlist that ranges from 1985 onwards with a few b-sides and album tracks," he adds. "We'll keep the ones that seem to go well with the audience, like 'Push Me, Shove Me,' and keep all the main singles, like 'Blue Savannah,' 'A Little Respect,' 'Chains Of Love,' and 'Victim of Love,' and then mix in the new stuff."
— Andy Argyrakis
To read the full story, grab the September issue of Illinois Entertainer, free throughout Chicagoland, or click the cover of the new edition on our homepage.