More Love From Nashville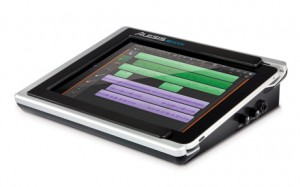 Last month we previewed a slew of new guitars from NAMM's Nashville music trade show, where guitars seemed to be making a comeback as the instrument of choice. On the electronics side, accessories for the home-recording crowd – including iPad users – also took a majority of floor space. This month, "Gear takes a look.
In Nashville, Alesis announced its iO Dock, the "world's first pro-audio dock for Apple's iPad and iPad 2," is now shipping to dealers in Chicagoland. The iO Dock is what Alesis claims is the "missing link between the iPad, its associated App Store's catalog of audio and video apps, and the entire world of professional-audio equipment."
Songwriters and home studio hobbyists are the target audience that Alesis hopes will combine its iO Dock and iPad into a home studio by utilizing the iPad's processor, touch-screen interface, and library of apps, to their already-owned collection of microphones, MIDI controllers, and instruments.
Included in the Dock are mic and instrument inputs that combine XLR and 1/4-inch ins, each with its own gain control and switchable phantom power for condenser microphones. Guitarists will like the iO Dock's guitar-direct switch, enabling them to play directly into amplifier and effects-modeling apps.
Bands can also connect outputs from their mixer to easily record their performances and rehearsals or use the iO Dock as a metronome or loop-playback device on stage. A pair of 1/4-inch stereo main outputs can also offer output to PA systems or studio monitors.
Home-studio bof-fins get a direct-monitor switch, which enables them to toggle between an incoming or a playback signal on their headphones. They can also connect the dock to their Mac or PC using the USB port to remotely control software with faders, transport controls, or any other MIDI-compliant control app. The iO Dock's output section can also be used as composite video connector as a source for video projection behind bands on stage, or for connection to most televisions and computer monitors. "Since its release, the iPad has captured the interest of forward-looking musicians," said Dan Radin, Product Manager for Alesis. "There are lots of music apps in the App Store, but before the iO Dock, there hasn't been a professional way to interface your music gear with iPad." The Alesis iO Dock's projected list price is $399, but the company claims that the estimated out-the-door cost will be reduced by half, at $199. For more information about the iO Dock, visit www.alesis.com/iodock.
When Korg launched the Pandora line of battery-powered multi-effect processors in 1995, grunge was coming to a close as a musical force, the economy was rocking with Clinton in office, and the Internet was in dial-up mode. Since then, each generation of Pandora has added more features and a higher level of user friendliness and its arguably be-come a better value.
The latest addition to the family is the Pandora Mini, designed with both guitarists and bassists in mind. Powered by Korg's REMS (Resonant structure and Electronic circuit Modeling System), the Pandora Mini offers 158 updated effects, divided into seven categories: Amp and Cabinets Models, Modulation and Filter Effects, Delay, Reverbs, and Noise Reduction. Up to seven effects can be used simultaneously in a single program. There are 400 programs available in the Pandora Mini, including 200 preset programs and 200 user program locations for storing new or customized sounds. It also offers 100 rhythm and metronome patterns that are good for tempo training, jamming, and composing. The Tap button makes it easy to set the rhythm or delay tempo, while the AUX input allows jamming along with an MP3 player or CD player. The AUX pitch function varies the pitch of the audio input by one octave, so it's able to match the key of the song during play-along. An auto-tuner with muting is also built in. The Pandora Mini is battery powered or its juice can also be supplied via USB when connected to a computer (hard to find that in 1996!). Once connected, sound-editing software for the Mini can be downloaded at no charge from korg.com. Expect to drop about $225, adjusted for post-dot-com (and real-estate) bubble. So whether you're still holding out for a grunge rebirth or you think Hillary would make a good president in 2012, Korg still has a Pandora's box for you. And get rid of that dial-up service, won't ya?
I have a hard time thinking of PRS as an amp company because amplification is such a new development in the company's back story, but with the release of the SE Series, PRS is becoming firmly entrenched as an exceptional boutique producer.
PRS' goal was to "expand the company's two-channel amp offerings to include boutique attitude at a price every guitarist can afford." With a construction that somewhat resembles the appearance of the 1990s Matchless Amp, PRS is "aiming to provide affordable musical instruments and equipment without sacrificing tone, usability, or quality," according to a company press release.
Their amp lineup, scheduled to start shipping this fall, includes the SE 20 (featuring 6V6 tubes), SE 30 (featuring 5881 speakers), and SE 50 (featuring EL34's – all of which are offered as closed-back 1×12 combos or as heads). An SE 2×12 cabinet is available as well. All of the amps in the series feature two channels with separate EQ, an effects loop, and reverb. Each amp also boasts custom- wound transformers, 0.090 aluminum chassis, high-end "on-on-on" selector switches, high-end NNS tubes, custom-voiced speakers, and custom knobs.
PRS Amp designer Doug Sewell worked with the shop's amp team to design and build a hand-wired prototype with high-end components. Pixies guitarist Joey Santiago endorsed the SE 30, "Great two-channel amp. The clean channel is nice and clear. The high end is very pleasant. The overdrive channel has a great crunch and punch." If you don't care what in the world Santiago has to say, learn more for yourself about the PRS amplifier line at www.prsguitars.com/amplifiers. A price list was not available at press time.
When your band's guitarist is blasting his amp in your ears, it's time to recommend some new direction, and Nashville-based Atlas Stands are here to help.
Altlas Stands are easy to carry, sturdy, and will improve the overall tone and sound of your amp both onstage and in the studio, according to the company. Unlike plastic or aluminum stands, Atlas uses ash, cherry, and walnut hardwoods, that its makers prefer to label as "a work of art that will protect and enhance your prized amplifier gear." Beyond the cosmetic, the company knows the guitar stand can have an effect on the tone of your amp. "A fine guitar amp isn't just a speaker in a box," says Josh Childers, founder of Atlas Stands, "the whole unit is a resonating extension of your guitar. When sitting on the floor, your amp can acoustically couple with its foundation, drastically increasing the bass response. By lifting the amp off the ground and allowing it to function independently of the floor, your amp will sound like it was truly meant to." Childers points out that the Atlas Stand places your amp at the proper angle, making it not only easier to hear onstage, but easier to mic there as well. A wide variety of customization and features are also available, including a built-in rack space, cooling fans, and open or closed backs to vary the tone of your speaker cabinet. Once the gig is over, the stand also folds flat and locks into place. And unlike Asian-made stands, these Tennessee-made holders are produced from sustainably grown, Southern-milled hardwoods. Pricing starts at $250. For more information, vist www.atlas-stands.com.
— David Gedge