Festival Tragedies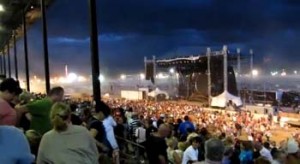 The way they're marketed – like vacations – it's easy to forget that music festivals are as prone to fate's whim as anything. While flash-mob gate-crashing at Lollapalooza didn't become a national epidemic like the England riots, Cheap Trick's experience at the Ottawa (Canada) Bluesfest in July shockingly repeated itself twice more in August.
First, as stormwinds began howling through the Indiana State Fair on August 13th, organizers attempted to alert fans watching Sugarland's set with evacuation instructions. Moments later, the stage and scaffolding collapsed, sending lights, steel, and debris into the crowd – killing seven and injuring more than 40. Varying reports allege flaws with the stage's design and construction. Five days later, the 25th-anniversary Pukkelpop festival in Belgium suffered a similar, winds-related disaster just as Chicago-based buzz-band Smith Westerns began their set. Initially, frontman Cullen Omori tweeted that drummer Max Kakacek had nearly been crushed and also made a dark insurance joke, which was removed amid reports that death claimed four in attendance.
Palooza's trials with the uninvited now seem trivial, however a lingering issue exists between promoter C3 Presents and the Chicago Police. Superintendent Gary McCarthy lashed out after the weekend, "I don't think it's acceptable, obviously. Being a private event, it's not up to us to be bouncers. We're there to provide for the public safety. We don't work as bouncers for admission purposes." C3 released a detailed account of its security preparations, which might require a moat and drawbridge for 2012.
Brightening Corners
Unpredictable weather in September generally refers to rash, external temperature swings, and the internal cauldrons that erupt with frustration at Tom Skilling for failing to elucidate that 85 in Mokena could only mean 55 in Lincoln Park. Lollapalooza and Pitchfork at least provide a dress-code: South Beach attire. The inaugural Brilliant Corners Of Popular Amusements? Follow your parents' "you can always take it off" standard. The Noble Square bash, from the 16th to 18th, melds carnival, comedic, art-house, and competitive accents with a stage boasting a Pitchfork-worthy lineup including Shellac, Bill Callahan, School Of Seven Bells, Dan Deacon, A Lull, Fool's Gold, A Hawk And A Hacksaw, Cave, and more. There's also the slightly interesting fact that the main grounds are free, though access to the big-top circus tents will require paid admittance. How September.
How To Go Out Of Business (Without Really Trying)
By 1978, the Cold War had convinced the world that the U.S. or Soviet Union could (and would) end the world at a moment's notice. (Kids don't seem to appreciate that, now, blah blah.) So why would the big record companies be expected to respect a mid-'70s copyright-law revision that essentially gave artists their music back? Just be happy we're still alive, man! Star musicians (Bruce Springsteen, Bob Dylan, Tom Petty) have begun filing papers to regain control of their 35-year-old recordings (beginning 1978) for 2013. This option was outlined in an amended section of federal copyright law, which grants artists termination rights after a three-and-a-half decade period. (Songwriters cash in as well.)
The meaning is that Sony, EMI, Warner Bros., and Universal (not to mention indies, down the road) lose the ability to proliferate these records and their songs in compilations, reissues, and soundtrack albums, etc. – an absolutely crucial source of revenue for the beleaguered labels post-Napster. Representatives for NARAS – which presents the Grammy awards – believes the opportunity will cripple the major labels even more than file-sharing has; the suits plan to fight back on the flimsy argument that songs/albums are works-for-hire, and thus not subject to the law. We don't imagine Tom Petty will back down. Fact, we know so.
— Steve Forstneger