Nouveau Sheet Music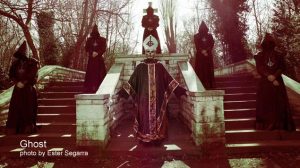 Remember last month when I conducted an interview with myself? Pretty awesome, yeah? To defend myself against accusations of narcissism, though, my reasoning for that column needs clarification: The originally planned feature with Swedish band Ghost never materialized.
It was way too late to land something else, so I did my own interview and sold it as celebrating this column's four-year anniversary. I'm not full of myself. I'm not an egomaniac. Actually, I'm quite humble. That said, I'm an incredible Super Shoot player. Also, I'm right nine times out of 10 guessing which junkies on "Intervention" will stay clean and which will go back to the crack rock. Ask my wife. It's uncanny.
Things went down to the wire again this month with Ghost. Apparently Papa Emeritus, the group's frontman, was vacationing or something. It had been nearly a month since I shipped an e-mail of questions to the band, I hadn't heard a peep, and was literally at the computer brainstorming new topics when a message titled "Ghost Responds!" appeared in my inbox. It was from one of the band's five Nameless Ghouls (two guitarists, a bassist, keyboardist, and drummer) and even had "Nameless Ghoul" in the "from" line!
Heavy on mystery, intrigue, and theatrics (Papa Emeritus paints his face like a skull and dresses like the Pope if the Pope dressed like King Diamond, and the Nameless Ghouls conceal their identities with masks and robes), Ghost gets written off by some as campy and ironic. Some obviously haven't really listened to Opus Eponymous, released late last year in Europe by Rise Above and early this year in North America by Metal Blade. It's a truly unique record for modern-day hard rock/heavy metal: super catchy, super melodic, super riffy, and super Satanic. Next month the group embarks on its first Stateside tour. (Ghost's debut was in May at Maryland Deathfest; it played two days later in New York City), during which it will support Enslaved. The tour stops at Bottom Lounge October 2nd. Tour cancelled.Hail, Satan.
Mosh: What are the band's beginnings? To a lot of people, Ghost sort of came from nowhere.
Nameless Ghoul: We decided very early on that since the concept of the band was going to be extremely conceptual and very straightforward theologically, we had to exclude some of the elementary public baby steps that most bands are forced to go through; meaning that we didn't do gigs before we had a large part of the theatric and ritualistic parts ready. Also, in order to be able to take a few big leaps quickly, we had to have some sort of release out before we made our live debut. Therefore, we made our first live performance after the release of Opus Eponymous – which in turn made everything happen very quickly from a public point of view, but the project had been two years in the making before being announced.
M: Where and when was Opus Eponymous recorded and what were the events surrounding its creation?
NG: Since there were very few people who knew about the band at all at the time, the recordings felt very playful and creative without much expectation from the outside world.
M: What inspires the band and how does it then create?
NG: Artistically we are very inspired by films, literature, music, and art. Lyrically, the inspiration comes from the beyond.
M: What were your expectations for your American debut at Maryland Deathfest, and what was the reality? Did you find American fans willing to accept "the views and goals of the Ghost ministry"?
NG: Those two concerts that we did in the beginning of the summer felt victorious for us. We did not really know what to expect from those shows beforehand, but we were certainly overwhelmed by the response we got – especially in New York City, where the crowd sang our lyrics louder than our singer. Pretty intense moment, for which we are utterly thankful for. As is Satan, of course.
M: Is North America ready for a full-fledged Ghost tour? Is our country (and northern neighbor) truly prepared?
NG: We are about to find out, but given that the tour that we are about to do is a supporting tour, you have to bear in mind that we are supposed to perform a slightly shorter set than we usually do, and we cannot really bring some of the production props that we have been using in Europe lately. Although we are definitely going to use our slot to give the spectators their money's worth (albeit that we are not headlining). What we are trying to say is that you can expect even more from us in the future, when we come back for another round.
M: Do you expect any negative reaction to your use of Catholic imagery? We Americans love some Jesus Christ!
NG: With regards to the medial interest in the band, our progress will of course potentially be attracting the spite of the Christian movements at some point, but so far we have not really been exposed to any rallies outside our shows. When we played a show in Stockholm, there was a parcel anonymously delivered to the band backstage, containing Bibles (holy ones). Does that count?
M: It's interesting the term "black metal" is used to describe Ghost, even by the band itself, when stylistically Ghost sounds nothing like, say, Darkthrone or Emperor. Is this an example of message, not music?
NG: Even though this term has been used frequently in the context of our promotional campaign, we do not really put much weight on the tag. We refrain from confessing to any scene. We are something else.
M: What does "black metal" mean to you?
NG: Personally, it means music and imagery that is transparently breathing a Satanic content.
M: Ghost is also described – in its bio – as "sexually pulsating heavy rock music." That might be one of the greatest descriptions ever for a band, but what does it have to do with black metal?
NG: Again, we differentiate slightly between the lyrical content and actual music. However, a lot of those bands that are usually mentioned as the forefathers of the black-metal genre, could easily be referred to as sexually pulsating heavy rock music: Black Sabbath and Mercyful Fate, to name a few.
M: Could the concept of Ghost have been as effective had fans known the names, faces, and DOBs of all the members from the get go?
NG: Probably not. However, we feel that the anonymity aspect of the band has been totally blown out of proportion. The idea of being anonymous was to put the aesthetic sides of the band first, and although most people seem to concentrate on what we are doing, way too many are hysterically putting focus on who we are and completely [ignoring] our music, which of course wasn't the point.
M: What does the future hold for Ghost? Will the band be around for the fall of mankind?
NG: A lot of touring and traveling. And when we aren't on the road, most time will be spent in the studio preparing our second album. As for the fall of mankind – we are already in the midst of it.
MOSH-WORTHY: An Autumn For Crippled Children Everything (ATFM); Wolves In The Throne Room Celestial Lineage (Southern Lord); Discharge Dissent & War Is Hell reissues (Candlelight); Cianide Gods Of Death (Hells Headbangers); In Solitude The World.The Flesh.The Devil (Metal Blade).
— Trevor Fisher
Category: Caught In A Mosh, Columns, Featured, Monthly