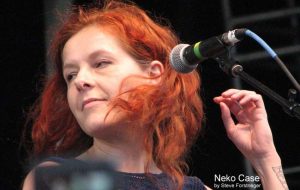 Overheard in Union Park on Friday night, from two separate pairs of people – two girls, then two boys – were the following snippets of conversation: "He has so many girlfriends"; "I have totally compromised myself." And that seemed to sum up this year's Pitchfork Music Festival fairly well.
Check illinoisentertainerphoto.com soon for updated photo galleries.
Choosing its championing of a wide range of artists as a strength, Pitchfork annually finds itself pulling in a number of directions. Unlike its online presence, where users only have to read what they click, the festival presents a challenge because these are Pitchfork's favorites: take it or leave it. When the roster demonstrates such extreme niches, you can depend on divided audiences and hovering apathy. This was not the overwhelming feel of Friday night's exposé, but its signs were everywhere.
Lawn-chair and picnic-blanket toters aside, it seemed that a certain type of fan never decamped from the Blue Stage (Tune-Yards, Currensy, Das Racist, James Blake) while more conservative attendees leaned from the Red Stage to the Green. In theory, they'd combine for the headliner, Animal Collective, and a mass emigration from Blake's set (only 40 minutes into which) suggested there would be unity; unfortunately, Neko Case fans cashed in on being at the stage nearest the exit. The whole day screamed for a galvanizing force — and almost got one in an anthemic turn by Guided By Voices — but never got going. Perhaps a return to the evening-start, three-band Friday bill is in order.
Exceptional:
We've already mentioned Guided By Voices, and it's worth mentioning that the set actually improved after Neko Case cameo'd background vocals for the opener, "Echoes Myron." A Cuervo Gold-swilling Robert Pollard delighted his fans with a run through mid-'90s never-classics, helicoptering through "Exit Flagger," "Tractor Rape Chain," "I Am A Scientist," "Cut-Out Witch," and more without making the audience work for thrills.
Currensy took the stage and must have felt like he was down-wind from the cops burning a drug seizure, so strong was the punch of doobage. Without the distraction of a hype crew, he bounced and wiggled through ganja ode after ode, pausing briefly once to offer a just-say-no branch to his younger fans.
Merrill Garbus, perched behind a Sheila E. drumkit and soundchecking her digital-looping setup, didn't look like she needed much help to recreate her Tune-Yards records. Fittingly, her bassist's broken amplifier held her up. Otherwise, her slot seemed to embody the Pitchfork ideal of radical elements – Garbus' elastic voice, digital manipulation, hip-hop beats – conspiring to build accessible jams. And thank God someone's taking the ukulele away from Eddie Vedder's morose brooding.
In hindsight, leaving after Das Racist would have ended Friday on an appropriate high note: three dorky goofs bounding around in a mixture of golden-age boom-bap and knob-twiddling backpacker beatsmithing. What can come off as heady and strained on record manages to have a lip-smacking curry to it: mindless yet safe, out there and into the sweet spot.
Questionable:
Hearing Neko Case live is rarely anything but an honor, and with a crack band including Jon Rauhouse and Kelly Hogan you might as well take the next day off. Her voice cut through Union Park with enough clarity to make James Blake's rumbling set sound like a car with a subwoofer on Ashland. (At 7:10, people flooded away from Blake's stage; I hustled over to see if he was clipping his toenails or something, and everyone — fans, Blake, his stagehands — was practically frozen.) But Case's setlist exposed her preference for dusty drifters that promote her ultra-serious side. Melodic release was provided with "This Tornado Loves You" and "People Got A Lotta Nerve," when what she needed was "John Saw That Number" or "Soulful Shade Of Blue."
There was a point in Thurston Moore's acoustic set where an endless jam sounded as if it would come out of the mire and launch into Sonic Youth's "The Diamond Sea." Redemption was at hand. And then it wasn't.
Pitchfork's architects made a smart move playing EMA so early, a rough-edged artist pitching unpolished cuts. But unpolished and unseasoned aren't the same idea, and those claustrophobic elements that make Past Life Martyred Saints such a fascinating listen couldn't find the same alignment in an open field. Young artists by nature have trouble finding such a balance, and it was just unfortunate that so much buzz preceded EMA in the days leading up to Friday's curtain-raising.
— Steve Forstneger
Category: Featured, Live Reviews, Weekly