Bad Girl Gone Good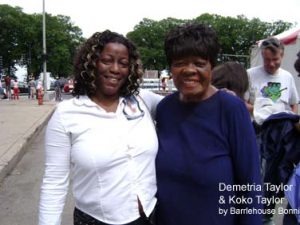 Chicago's legendary blues sound continues to evolve and expand with new variations and perspectives, and the most exciting additions are pouring from the offspring of its heroes. The latest take comes from Demetria Taylor, daughter of the late guitarist Eddie Taylor. Although she has devoted years developing her voice singing on her brother Eddie Taylor Jr.'s albums and playing Blues Fest as well as North Side clubs, she has only now released her promising debut, Bad Girl (Delmark).
Filled with savvy re-workings of classics, the 12-track CD illustrates a blues star in the making. The title track, a loving take on her father's "Bad Boy," demonstrates a perfect reworking of the West Side aesthetic. Taylor belts with conviction and Billy Branch's scorching harp work underscores the new-millennium feel. The singer offers uptempo grooves on Taylor Jr.'s "I Can't Take It No More," and her authority is unquestionable on "Big Boss Man," originally recorded by her father's legendary partner, Jimmy Reed.
She's less sure-footed tackling Koko Taylor's iconic "I'm A Woman" and "Voodoo Woman," which require much more power than her mid-level vocals can muster, but she manages a decent take. The album's standout, "Cherry Red Wine," a Luther Allison ballad that Taylor makes her own, shows her delving deep into gut-twisting blues with a convincing delivery that transports listeners into an alcoholic's descent. Eddie Shaw's masterful sax blasts accent the tune's emotional depth. Indeed, the all-star band – featuring Branch, Shaw, Taylor Jr., Roosevelt Purifoy, Greg McDaniel, and Pooky Styx – crackles with so much tight rhythm that the album would work even without Taylor's well-honed vocals. Bad Girl shows that blues clearly runs in Taylor's genes, and that she's poised to represent Chicago's next generation.
Appearing: Tuesdays and Wednes-days at Blue Chicago (536 N. Clark) in Chicago.
A sticker that warns "contains sexually explicit lyrics" seems rather redundant when it applies to blues. Yet it's also rare. But if any collection should warrant the distinction, Grana' Louise's special Gettin' Kinda Rough! (Delmark) is it. In a field overrun with gratuitous caricatures, Louise performs in the (rarely seen) commanding and bawdy tradition of great blues women like Bessie Smith and Big Mama Thornton. Penning her own sly originals as well as taking on classics with a twist, Louise stands out on many levels.
Opening up her diverse and well-crafted album with the traditional "Stagger Lee," Louise rich and assured delivery supplies a contemporary gloss, and her adlib of "somebody call 911" reveals the engaging personality that seeps through every tune. Lousie offers accomplished covers here like her tongue-in-cheek run through Denise LaSalle's "Learning How To Cheat On You," and her funky treatment of Ann Peebles' "I Can't Stand The Rain." But the highlights are the originals. From the bouncy "Lead Foot Mama" to the ribald "Big Dick, M'isipi," the singer's wide-reaching talents are on full display. Aside from her clear, high range, Louise displays humorous songwriting talent. On the hilarious "Bang Bang Ba-Bang Bang Bang Bang!," the chorus teases, "All the neighbors say my my/they think it's the Fourth Of July/all they hear is bang bang ba-bang bang!"
The CD's last five tracks were recorded live at Blue Chicago, and they provide a showcase for the singer's huge stage presence. She manages to claim Eddie "Cleanhead" Vinson's "Back Door Blues" as her own with all the soulful wailing and belting that authentic blues requires. For the finale, she takes on Jimi Hendrix's version of "Hey Joe" and firmly shines the light on rock's blues heritage.
Appearing: Mondays at Blue Chicago (536 N. Clark) in Chicago.
Like too many blues artists, Eric Bibb has always garnered more appreciation in Europe than here in the U.S., and his pure, unfettered acoustic style reflects his reverence for tradition as well as an easy European sensibility. His latest, Troubadour Live (Telarc), presents a beautiful collection of storytelling and guitar-playing recorded one winter evening in Sweden. Even for non-blues fans, this album of 13 pristine tracks will captivate with its virtuoso playing and soul-drenched singing. For blues fans, this CD is an essential treasure trove of acoustic work.
The first track, "The Cape," introduces Bibb's dynamic folk heritage with an inspirational ode to the value of childlike courage. Afterwards, he's joined by Swedish guitarist Staffan Astner, whose clean picking provides the perfect accompaniment to Bibb's acoustic rhythms. "New Home" celebrates the country blues with Bibb's smooth crooning and playing, while "Walkin' Blues Again" reaches deep into tradition with riveting vocals and storytelling, and "Tell Riley" literally calls upon B.B. King. The title track vividly conjures all of the imagery of a musician who travels the world: "People ask me what kind of music do you play/I just say/'Want to hear some blues?'/like a freight train running through/gospel/soul and some good 'ol rock n' roll/I'm sangin' what I'm livin/they call me a troubadour."
That verse serves as an evocative blueprint for the album, because the blues is accented with traces of gospel expertly supplied by the trio Psalm 4; effortless soul delivery that creeps through his ballads; and the searing guitar riffs represent rock well. The only off note is a bonus studio track, "If You Were Not My Woman," that delivers a one-drop reggae rhythm that might throw listeners. After 12 straight transcendent tracks, it's a misstep that Bibb can clearly get away with.
BLUES FOR A CAUSE: The Italian American Veterans Museum and Library is hosting a benefit blues concert at Jimmy Figs in Chicago featuring Cheryl and the Dynamics, Geneva Convention, and Triple Shot on July 22nd. All proceeds go directly to the IAVML in Stone Park.
— Rosalind Cummings-Yeates
Category: Columns, Monthly, Sweet Home