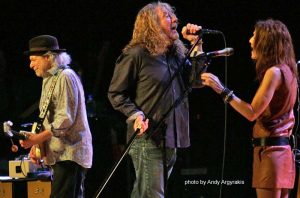 Anyone hoping to hear Robert Plant revisiting Led Zeppelin's greatest hits on his latest solo tour probably hasn't been following the luminary's last few albums. A tag team with Alison Krauss for 2007's Raising Sand turned toward the alternative country side of the dial, while last year's Band Of Joy is a similar side-step, loaded with some classic and mostly obscure, earthy covers. As a result, Thursday's setlist leaned heavily on those two collections at a sold-out Ravinia, once again confirming that Plant refuses to get caught up in his own nostalgia, though still rooting his personal tastes in the southern states.
Even so, the show started with Plant and his Band Of Joy (which also includes guitarist Buddy Miller and vocalist Patty Griffin) kicking out a little bit of Led with a stripped down rendition of "Gallows Pole." After catching the attention of more casual onlookers, he dug much deeper to recall Los Lobos' Tex-Mex foot-stomper "Angel Dance" and Low's smoldering "Monkey."
Additional odes to underrated but respected songwriters included a bluesy bent on Richard Thompson's "House Of Cards," along with a recollection of the long-forgotten country-infused solo song "Down To The Sea." Miller was a force to be reckoned with throughout a bare bones "In The Mood," while Griffin offered angelic harmonies to the old-time dirge "Satan Your Kingdom Must Come Down" and served as an ample sub for Krauss come "Rich Woman."
As for the handful of other Zeppelin smatterings, "Black Country Woman" fit snuggly within the rootsy motif, while "Misty Mountain Hop," "Ramble On," and "Rock And Roll" served as brief but bountiful glimpses of Plant's classic-rock greatness. However, with Townes Van Zandt's "Harm's Swift Way" and The Grateful Dead's "And We Bid You Goodnight" as encores, it was clear that Plant's mostly interested in channeling other people's pasts through his signature vocal growls.
— Andy Argyrakis
Category: Featured, Live Reviews, Weekly