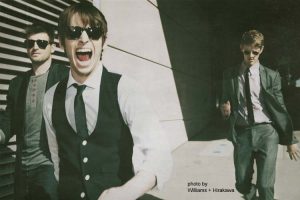 Without being so daft as to suggest it has fallen off the map, Los Angeles doesn't seem so central to rock 'n' roll these days. So to hear that superbuzz band Foster The People hail from sunny SoCal, it's kind of like, Oh, really?
Indie-rock's most commonly spotted in Montreal, Portland, Austin, and Brooklyn these days, and L.A. still invokes the lingering, aerosol residue from the hair-metal days. (Most damning is that musicians have stopped writing songs about what a shithole it can be.) The city has moved on — Hotel Café singer/songwriters enjoy its proximity to WB-type dramas — and there's still only one better media market in the country.
Foster The People's jump into the zeitgeist seems all the more unlikely because they're an L.A. band. The initials are like scarlet letters, a denigration yelling "fake, poseur, scam!" But all that bullshit falls away if you make it clear to people you just came to party. After lighting up blogs with a three-song EP, the band are finally ready to plant their strobe and kick it full-length style. Torches (Star Time/Columbia) struggles to contain its effervescence at times, opening with an overcaffeinated brew of MGMT and Passion Pit, a kaleidoscope being spun at a million miles per hour. Just as the record begins to feel one-dimensional, it breaks to reveal unusually svelte R&B undercurrents. Playlists will be filled with opening bangers "Helena Beat" and "Pumped Up Kicks," but Torches' essence almost feels like the work of a single person, with "Waste" and "I Would Do Anything For You" the center from which their tentacles spread. Indeed, the album's backhalf feels like filler in that regard. If the idea is to see Foster The People before they're too big, do it before they're too different.
Of course, being from L.A. they'll probably just produce a sequel. (Sunday@Lincoln Hall with Canon Blue and Gardens & Villa.)
— Steve Forstneger
Category: Stage Buzz, Weekly