Here Comes A Regular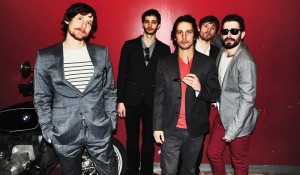 Sam Roberts always wanted to be Norm Peterson. Not in the portly beer-chugging, barfly kind of way that George Wendt so eloquently portrayed on "Cheers," but the Canadian singer/songwriter long fancied walking into an establishment to the sounds of a familiar greeting and being seated to find a plate of "the usual" at his place setting.
Appearing: Tuesday, June 7th at Lincoln Hall (2424 N. Lincoln) in Chicago.
He got his wish while spending six weeks in and out of Brian Deck's studio in Chicago's Bucktown to record his fourth album, Collider (Zoe/Rounder). Roberts and members of his band (drummer Josh Trager, bassist James Hall, and guitarist/keyboardist Eric Fares) repeatedly left the confines of Engine Music Studios and took advantage of the city's myriad offerings through weekly field trips to tourist attractions (The Planetarium, Field Museum), meandering around Grant Park, and hitting up nearby venues to soak up some local sounds, but the daily breakfast ritual at the Bongo Room cemented his status as a true regular.
Short of calling out "Sam!" when the 36-year-old entered the Wicker Park location, the staff quickly caught on to his order – the Tomatillo Salsa Scramble (an amalgam of chicken, spinach, diced avocado, and three scrambled egg whites) – and his lack of a need for a menu.
"I ate it every single day. It was so good that from the first time to the last time, it never got old," Roberts reminisces all the way from home in Montreal. "It was kind of embarrassing . . . walking into this restaurant and at first they're all excited that they've got repeat customers and then they start rolling their eyes at you, but you kind of just push through."
The thought of returning for a meal when the band headlines Lincoln Hall on June 7th excites Roberts, and he's not bashful about hoping they'll still remember his order. "That's the only time I've ever had that kind of relationship with a restaurant in my life," he points out.
The material on Collider is a byproduct of the other relationships in his life: the one with his longtime band – who finally receive co-billing on this album after three releases under the straight moniker of Sam Roberts – and his expanding family (the Roberts clan welcomed a boy eight weeks ago, in addition to a 4-and-a-half and a 2-year-old).
While the album doesn't pretend to be a treatise on fatherhood, the role underlines all of Roberts' output. "It's such a profound shift in your psyche and your outlook on life, that if it doesn't affect your songwriting there is some serious disconnect between what you're living and what you're singing about and that's never the goal for me. I think it's always a case of trying to bring the two things as close together as possible," Roberts suggests. "My songwriting, not that it's all necessarily from the point of view of a nervous father, but yeah, in some ways, I think it's maybe more forward thinking because I'm so invested in the future where it was always about the present before."
Having kids also brings about an early wake-up call – even for a night-owl musician. Roberts credits the demands of childrearing for facilitating an expeditious recording session. "You're far more productive. It's amazing. That's why we made this record in six weeks instead of seven months."
Choosing a producer like Deck, the Red Red Meat alum and go-to guy for Iron & Wine, Califone, and Modest Mouse, Roberts made the conscious decision to step away from the classic-rock, guitar-heavy sound permeating his previous outings and use rhythm as a focal point. In order to obtain an authentic groove, Roberts enlisted Califone percussionist Ben Massarella and Stuart Bogie, the whiz with a woodwind from Antibalas to contribute to Collider.
— Janine Schaults
For the full interview, grab the June issue of Illinois Entertainer, available free throughout Chicagoland.