Welcome To The Enormodome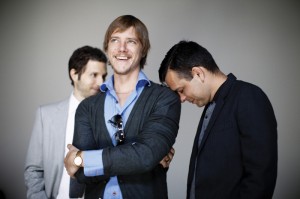 Scoring an opening-act slot on the highest-grossing tour of all time might seem like the perfect opportunity for mainstream domination, but in the case of Interpol riding shotgun on U2's 360 juggernaut, it's just another natural step in the group's ascendance from indie obscurity. In fact, the post-punk pursuant never plots any of its career moves such as this coveted opportunity, instead focusing exclusively on creative concerns and letting the rest of the puzzle pieces fall as they may.
Appearing: Tuesday, July 5th at Soldier Field in Chicago with U2.
"You can't really plan anything like that, and it's interesting because you can loosely project the trajectory – you can say you definitely want to move forward – but what exactly does that mean?" ponders drummer Sam Fogarino. "It's the music [business] and you don't have any control of it. We're not the kind of band that tries to write a hit song to propel us into the pop market or the upside of the charts, and I don't even think we'd know how. It's funny, because the songs that we write that I consider kind of poppy are the ones that might not have a chorus or have a really dark chord progression. The attitude we've all maintained is that if something happens [in terms of mainstream popularity], then fine, but it has to be on our own accord or without deliberate effort. We went out and played after Turn On The Bright Lights came out almost 10 years ago, and just built up a work ethic to go and play and not complain. Of course we did [complain], but it didn't impede any kind of forward movement."
The journey from tiny clubs (which, in the case of Chicago, included Metro as Interpol's early stomping grounds) soon expanded to major arenas and stadiums as the group opened for The Cure's Curiosa Festival when it released its sophomore set, Antics, in 2004. During that same album cycle, the band scored a one-off gig supporting U2 in Glasgow, and though there wasn't a meet-and-greet with Bono and co. that night, the frontman gushed about its set to his bandmates and the tens of thousands of fans gathered.
"We met him about two years later, and reminisced about that show and thanked him for it," Fogarino recalls. "I even asked, 'Maybe we could do it again sometime?' and he said, 'Oh, we will.' Lo and behold we did 10 shows in Europe and now we're coming through the States. We just came out being the band that we are and the whole band liked us, Bono especially. They're really genuine, and in terms of our experience throughout Europe, they never pulled that 'You can't look at us or hang out with us' weird rock-star attitude. They were very gracious and even cut their soundcheck short so we'd get one."
The indoctrination was only moderately more intense than the grassroots rise that coincided with Interpol's four albums (with 2010's self-titled disc serving as the latest). Even with the pressure having subsided, the group is sounding surprisingly tight, even if the lineup shifted somewhat unexpectedly. These days, official Interpol members include frontman/guitarist Paul Banks, guitarist Daniel Kessler, and Fogarino as beat keeper, alongside touring musicians Brandon Curtis (keyboards) and Brad Truax (bass).
"It would appear we're hard to get along with [given the member changes]," jokes Fogarino. "It's just been an unfortunate situation stating with departure of [bassist] Carlos [Dengler, who left after the last album was recorded] because he needed a directional change in life and we wanted to keep doing what we were doing." Enter David Pajo [Slint, Tortoise, Zwan], who stepped in for a year of touring, but, unfortunately not even midway through, had to exit due to some since-resolved family emergencies. "Brad's been a real champion and I can't sing that guy's praises enough.
— Andy Argyrakis
For the full interview, grab the June issue of Illinois Entertainer, available free throughout Chicagoland.