Soul Power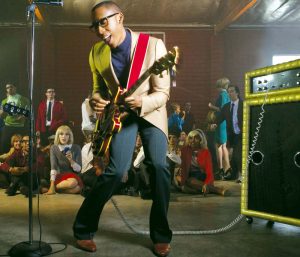 Raphael Saadiq's recent single, "Radio" — the last song he wrote for his new album Stone Rollin' (Columbia) — speaks volumes on his unusual place in the music industry.
"I met this girl named Radio/said her signal was low/she wasn't getting my sound . . ." he sings over late-'50s-styled rockabilly guitar riffs. Using a woman to personify pop radio, which hasn't been known to embrace artists whose sonic foundation is heavily influenced by the '50s, '60s, or '70s, Saadiq acknowledges that not everyone appreciates the vintage vibe heard on his last two albums.
Yet in 2008, when he released The Way I See It during the height of the classic-soul revival (featuring groups like Sharon Jones & The Dap Kings), Saadiq was arguably at the front of the pack. Of course, he did not crack Billboard's Hot 100 or find himself in heavy rotation on Top-40 radio. The singer/songwriter/producer did, however, score a few Grammy nominations and was embraced by many of his fans dating back to the Tony! Toni! Toné! '80s/'90s R&B days, not to mention the slew of new listeners he gained on the road at South By Southwest and countless other festivals and shows. Seeing the spirited, guitar-tinged soul of songs like "100 Yard Dash" live on stage gave listeners a whole new reason to appreciate the artistry and class of Saadiq, who dons old-school suits and gives his all performing the classic music he loves.
When speaking to Saadiq, he's gearing up for tour again, excited to get back on stage to share his past-meets-present aesthetic.
As he says of getting back on the bus these days, "Being on the road, you gotta be more familiar with a lot of different bands and the different audiences and just getting the band really tight. So it's been fun just hanging out being with a band again and just traveling and getting a chance to play in front of different crowds all year long."
Until hitting the highways again, Saadiq's most sizable audience of late will remain the crowd at the 2011 Grammy Awards. At the banquet, Saadiq and his band gave a standout performance while paying tribute to Solomon Burke and his hit, "Everybody Needs Somebody To Love," alongside none other than Mick Jagger. On many levels, the tribute with the Rolling Stones frontman was a historic moment.
"He's played in front of so many different people his whole life," he imagines, "so to play with someone with that pedigree of the lines where he comes from, he was kind of like the missing link for me because he actually played with and hung out with cats like Howlin' Wolf that I never got an opportunity to meet. So for me it was an honor to be on stage watching people get that live feeling that you never get to see on TV. And to be honoring such a great man like Solomon Burke himself made it that much bigger and better for me."
While Jagger may have been a missing link to rock's founding fathers, for Saadiq, through our conversation, it becomes clear that working with any one artist in particular is not what this artist is after. "I don't really sit back and wish to work with anybody — I just stay consistent with what I do," he says. "I was definitely honored to play with Mick, but it's all a tribute to staying true to what I do and that's sticking to music I really love."
Keeping true to his vision, making his new album (and fifth overall), Stone Rollin', was not about high-profile collaborations or quick hits. Recorded in his self-described "warm, vibrant, and artsy" North Hollywood recording space, this perfectly paced record harkens to rock's earliest days a la Chuck Berry, while spotlighting his own penchant for classy relationship narratives. This album is not so much a reinvention of his sound since The Way I See It — instead it sees Saadiq dig deeper into rock and soul history while picking up the pace sonically via finger-snapping potential hits "Heart Attack," "Radion," and the title track. In essence, he's fine-tuning what he started with songs from the last album, like "100 Yard Dash."
— Max Herman
For the complete story, grab the April issue of Illinois Entertainer, available free throughout Chicagoland.