How Not To Die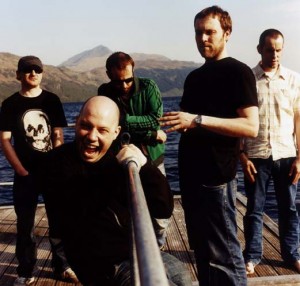 For naysayers, it might be difficult to believe that Mogwai still exists. Launched by guitarist Stuart Braithwaite, bassist Dominic Aitchison, and drummer Martin Bulloch in 1995, with the intent of making "serious guitar music," Mogwai etched the outlines that would become the blueprint for countless imitators. Joined by guitarist John Cummings and keyboardist/guitarist Barry Burns, Mogwai has carved out a respectable living setting the standard in a niche genre, and preserving through the typical backlash, wavering popularity, and shifting musical trends.
Appearing: Friday, April 29th at Metro in Chicago.
Naturally, a lot has changed since those early days, when Mogwai was a young, brash band of noisy malcontents, selling T-shirts dissing Blur, and blasting away critics and fans alike with seismic performances. We caught up with Braithwaite to discuss how the band has changed and survived over the past 16 years, starting with what he's learned about the music industry and being a professional musician.
"When you're young, there are a lot of things you don't really understand," he says. "There's things you don't even think of, or you've read about, but are different once you go through them."
Like having to do these interviews?
"Yeah! It's not my favorite, but, no it's not the worst," Braithwaite admits while enduring his fourth of six for the day. He jokingly adds, "The worst part is spending most of your life touring!"
At press time, Mogwai is grinding through a grueling jaunt that will take it across four continents and over 18 countries in a five-month span. Returning to the topic of touring and the lifestyle demands of playing music professionally, Braithwaite confirms that his earlier sentiment was merely a sarcastic jab. "I don't dread it, it's just a lot of hard work; but I enjoy playing our music for people. It's definitely something I feel lucky to be able to do . . . I'm just glad that people want to hear the music. You can't think about the negative pressure, you gotta celebrate!"
"Celebration" isn't the most obvious adjective to describe Mogwai's incendiary live performances, but the recent documentary film Burning does reveal the passion and collaborative effort involved in producing its shows. It's a stunning visual work, capturing the ricocheting modulations and frenzied rhythms of the band's execution, and the unique visual approach highlights the subtle gestures and conveys the energy propelling the music. Braithwaite concurs. "I really liked it; to me it really reminded me of what it's like to be playing on stage. It really felt like an on-stage document. A lot of live shows, it's is just four or five guys on stage from the back of the room, but this was more of what it's like on stage. I couldn't be happier with it. [Directors Vincent Moon and Nathanael Le Scouarnac] are really great people and we appreciated just being left alone to make the record; sorry, the film. Ha! Ha!"
Much of Mogwai's initial success was catapulted by those early shows, which established its reputation for head-shattering volume and the catastrophic, feedback-drenched dirges that ended the night. As an aggressive and confrontational reaction to Brit-pop, Mogwai burst upon the scene, literally, by sheer brute force. "Yeah, for awhile, [the shows were] really, really, really loud. We're still a pretty loud band, but we kind of pulled back a little bit. I don't know if [the volume] was helping the music any. Some things can be so loud, that you're not really getting the clarity from the music."
Such reformation might sound like the typical, "we're maturing as artists" blather, but Braithwaite understands how Mogwai's instrumental storm has evolved into a different sort of beast. While some critics disparage Mogwai for making the same record over and over, others have criticized recent efforts for not matching the rollicking intensity and burnished fervor of the band's initial output. This strain of criticism plagues many bands with any measure of longevity, and as Braithwaite reflects on the arc of Mogwai's musical development and its latest album, Hardcore Will Never Die, But You Will (Sub Pop), he's characteristically droll in his assessment.
"After we made [Young Team], it wasn't so hard. The hardest was the very first album we made, after that it was O.K. It's more just . . . writing the songs is trickier . . . Coming up with music that's exciting and interesting, that's the hard part!"
I suggested that Mogwai might be mellowing, tempering the aggressive metal influence that was evident in the powerhouse cuts from Happy Songs For Happy People and Mr. Beast, but Braithwaite isn't so sure.
"I think it depends, like one of our heaviest songs was on the last record [The Hawk Is Hunting], 'Bat Cat.' So, I don't know if I'd say that. We don't really think about the style of the song, we just write the music and play it so it sounds the best."
— Patrick Conlan
For the complete story, grab the April issue of Illinois Entertainer, available free throughout Chicagoland.