iK Multimedia
iRig Microphone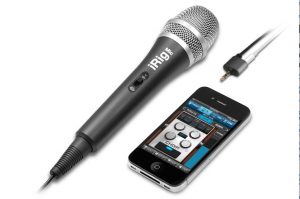 In the "netherworld" of music recording, a wave of hobbyists record their song ideas to iPhones, iPods, and iPads and IK Multimedia is there to help them with its new iRig Microphone. IK claims it's "the first handheld-quality condenser microphone for iPhone, iPod Touch, and iPad – designed for all vocal and mobile-sound needs." iRig Mic is made for the singer, vocalist, and songwriter who tracks "song sketches" on the go, but also geared for recording speeches, instruments, and performances. The iRig Mic features a unidirectional electret-condenser microphone capsule that offers entry-level recording in both close-mic and long-throw conditions, and real-time monitoring with its dual mini-jack connector. A three-level gain switch makes it versatile for many recording conditions, from acoustic to concert-level playing. Resembling a Shure Beta 57 mic in design (but not quite in quality), its form is perfect for handheld performance, plus it can be mounted on any mic stand leaving the iOS device free for "app operation." iRig Mic also includes Voca-Live, IK's new real-time effects processor app suite for the vocalist; iRig Recorder, the its free audio recording app; and AmpliTube Free, the best-selling app for guitarists and songwriters. iRig Mic also works with a multitude of other vocal and audio recording or processing apps for the iOS platform. MSRP is $99; info can be found at www.ikmultimedia.com.
Mapex
Back Support Drum Throne
Oh, your aching back! Mapex Drums is giving drummers a choice of a different kind of support: an affordable new throne with an adjustable backrest for a little more comfort behind the kit. Like competitors Ludwig and Gibralter, Mapex has fitted it with four legs instead of the traditional three for additional strength and durability. "For longer gigs, the back support becomes indispensible," said Mapex's Joe Hibbs in a statement. "But even if you are playing for 20 minutes at a time, this new throne goes a long way toward helping drummers use better posture when they are playing." Mapex has made it easier to adjust the correct settings, using a threaded height adjustment for the seat and a height/depth control for the backrest. For those wanting the classic look, the backrest can be removed completely in one step. And drummers looking for a premium throne will not have to pay a premium price. "You won't find another quality back-supported drum throne at this price," said Hibbs. Street price is rumored to be in the $100 range, about half the price of some currently available alternates. Two models are available, the T775 saddle seat and T770 round, thick-cushion. Go to mapex.com for more.
Sandberg Bass Returns to the U.S Market
You thought Ryne Sandberg left the Cubs to coach in Philly's minor-league system? Celebrating their 25th Anniversary, Sandberg Bass returns to the States with a range of basses in four-, five-, and six-string versions (guitars too) designed and handcrafted in Braunschweig, Germany. One of Europe's leading manufacturers of pro-quality basses, Sandberg offers models that start from $1,495. See www.sandberg-guitars.de. We were just just kidding about the Ryno part.
— David Gedge